---
---
---
Super charged, high powered targeted treatment with the MitoMIN 300w 60 LED red light therapy device. Best value targeted red light therapy panel available on the market. Compare to lower-powered similar sized models priced at $399. Whisper quiet fan keeps LEDs cool ensuring 50,000+ hour lifespan. Dual switches, one each for 660nm (Red) and 850nm (NIR), allow for full customization of the session. Use Red, NIR or both at the same time! Highest irradiance on the market. Full 2 Year Warranty.

Independent 3rd party testing shows the MitoMIN delivers an industry leading 14,503 joules per 10 minute session. 
Includes:
1 X Power cord
1 X Goggles
1 X User Manual
1 X Steel cable
1 X Door hanging hook
1 X Adjustable height pulley system 
Specifications
Size: 13" X 9" X 3"
LEDs: 60 x 5w
Wavelengths:
Enhanced Spectral Energy Output™ : 50% Red (peak power 660nm) and 50% NIR (peak power 850nm)
Irradiance: >85mw/cm2 @ 6 inches
Switches:
Dual switches, one each for 660nm (Red) and 850nm (NIR), allow for full customization of the session. Use Red only, NIR only or both at the same time! 
Beam Angle: 60 degrees
Weight: 6 lbs
Lifespan: 50,000+ hours
Power Consumption: 140 
Warranty: Full 2 year warranty
Compatible with all worldwide voltages. 
Download the full user manual 
here.
---
Customer Reviews
Write a Review
Ask a Question
01/11/2021
susan l.
United States
Mito red light review
I love Mito Red Light treatments. I am committed to 10 minutes a day, and feel Mito brand is top of the line. I will keep you posted on my progress.
01/09/2021
Donald C.
United States
It Works!
I am 66 years old and have arthritic pain in my knees, hips and shoulders. My shoulders are the worse and will be getting shoulder replacement surgery. My daughter-in-law suggested I try red light therapy. I was skeptical but I trust her and bought the mini. I have been using it since December 9 and the pain in my knees is all but gone. My hips are much better and I have just noticed my shoulders improving. I am convinced this is helping me. It was great investment in my health.
01/06/2021
Salma S.
United States
A great tool
One of my great tool at my home to use to thrive. Thank you so much for making it available for us to buy.
01/01/2021
Michael J.
United States
Perfect for at home treatment
Perfect for spot treatment - sturdy construction but not too heavy. I can easily move it around to specific areas I want to treat
12/23/2020
Judith B.
United States
Learning more all the time
I bought a Mito Red and\ am enjoying learning how to use it. Due to many personal problems, I have not had adequate time with it yet and I am looking forward to that experience soon. Thank you for your product.
12/12/2020
Maria F.
United States
Love my MitoMIN
I've been using my MitoMIN Red Light Therapy for over a month now and am really loving it. I set it up in my meditation area and just relax for 15 min. I've added a photo so you can see what it looks like. I use it in conjunction with a daily skincare regime and I am starting to see the benefits. My skin looks plumper and feels healthier. Excited to see what happens after longer use.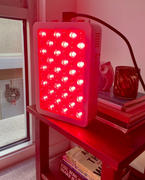 12/09/2020
Kevin S.
United States
Great addition to the health journey
This has been added into my daily routine. Multi areas of focus! Love it and have seen improvements in my focused areas.