Mito
Red

Light Quad Wavelength Therapy Belt

Sale!

$399.00

$599.00 USD
Battery Capacity: 15,000 mAh
67% NIR, 33% Red
LEDs: 405 diodes with 3 chips per diode = 1,215 LED chips per belt!
Wavelengths: 630nm, 660nm (Red) & 810nm, 850nm (NIR). Use red alone, NIR alone or both together.
Intensity: 5 intensity levels to choose from.
Power Input: 120V (can be used internationally with plug adapter)
Charge Power Output: 12V
Weight: 1.2 pounds
Dimensions: 50"x7"
Treatment area dimensions: 22" x 5"
Irradiance: 18mW/cm2
1 Year Warranty
Runs 2-6 hours on a single charge (depending on intensity level selected)
EXCEPTIONAL VALUE YOU EXPECT FROM MITO RED
The MITO RED LIGHT Advanced Red Light Therapy belt contains 405 LED diodes with 3 chips per diode = a whopping 1,215 LED chips total!
Beware low quaility belts / wraps out there, that use less than half the amount of LEDs and space them out quite a bit.
The belt is meant to be used right up on the skin so having a HIGH quantity of diodes close together is absolutely critical to eliminate dead space and deliver maximum results.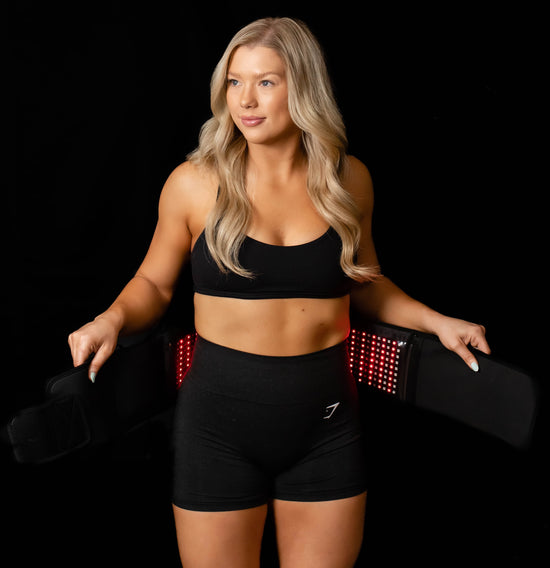 BE UNTETHERED AND MULTI-TASK
The MITO RED LIGHT Advanced Red Light Therapy Belt can be used by plugging into a standard wall outlet OR by using the included power bank.
This means you can have the freedom of movement and need not be tethered to the nearest wall outlet.
Most other red light therapy belts on the market either need to be plugged in or they charge extra for a power bank.
The Quad Belt amps up the Near Infrared penetration by having 2/3 of the LEDs in the NIR spectrum.
630nm LED chip: 202pcs
660nm LED chips:203pcs
810nm LED chip: 404pcs
850nm LED chip: 406pcs
MAXIMUM FLEXIBILITY
With FIVE intensity levels and the ability to use red alone, NIR alone or both together, find the light combination and intensity that works best for you.
Q: Is the Irradiance on the belt low?
A: Yes - it's supposed to be! For three primary reasons:
1) Reflection: Our panels range from ~2.0J - 3.5J at the usage distance, but some studies suggest that as much as 50% of that energy can be lost due to reflection.
2) Proximity: The belt is meant to be used right up on the body, so the light must be lower intensity to optimize for safety.
3) Duration: Even after factoring for the benefit of no reflection, the light is lower powered so we recommend longer session times of ~20 minutes. This is easier to accomplish due to convenience and portability of the belt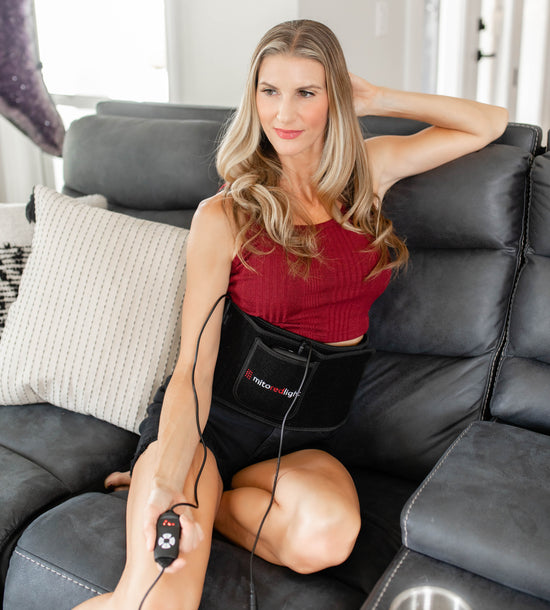 CUSTOMIZED POWER BANK
The MITO RED LIGHT Advanced Red Light Therapy Belt's customized battery has an incredible 15,000 mAh capacity.
This means you can spend more time conquering your day and less time worrying if your belt battery is charged for use.
The custom battery provides over 2 hours of use at the highest setting and as much as 6 hours of use at lower intensity levels, before needing to be recharged,