---
---
---
Super charged, high powered full body treatment with the MitoMAX 1000w 200 LED red light therapy device. Best full body red light therapy panel available on the market. Compare to lower-powered 36 inch panels that can run $1195 or more! Four whisper quiet fans keep LEDs cool ensuring 50,000 hour lifespan. Dual switches, one each for 660nm (Red) and 850nm (NIR), allow for full customization of the session. Use Red, NIR or both at the same time! Highest irradiance on the market. 2 Year Warranty.
Independent 3rd party testing shows the MitoMAX delivers an industry leading 48,344 joules per 10 minute session. 
Includes:
1 X Power cord
1 X Goggles
1 X User Manual
1 X Steel cable
1 X Door hanging hook
1 X Adjustable height pulley system

Specifications
Size: 36" X 9" X 3"
LEDs: 200  x 5w
Wavelengths: Enhanced Spectral Energy Output™ : 50% Red (peak power 660nm) and 50% NIR (peak power 850nm)
Irradiance: >110mw/cm2 @ 6 inches
Switches:
Dual switches, one each for 660nm (Red) and 850nm (NIR), allow for full customization of the session. Use Red, NIR or both at the same time! 
Lifespan: 50,000+ hours
Beam Angle: 60 degrees
Weight: 20 lbs
Power Consumption: 360 
Warranty: Full 2 year warranty
Compatible
 with all worldwide voltages. 
Download the full user manual
here.
---
Customer Reviews
Write a Review
Ask a Question
09/28/2020
SCOTT G.
United States
MitoMax - Game Changer!
MitoMax unit is awesome and very well built. I have been using it daily for about three weeks and it makes a noticeably difference on skin tone and health. Recovery time is shortened significantly between workouts. I haven't had any delayed onset soreness in my muscles. Sleep is much better as well. Went from waking up multiple times per night to once. This unit is powerful so ease into the therapy.
07/29/2020
Sheri F.
United States
Mitomax
I have been using the mitomax for about 8 wks, i love using it at night as it relaxes me. Seems to be helping some cellulite issues on legs, Do wish it came with a better book for more fast track approaches to issues like joint pain , collagen production ect.. Would love to update again in a month or so.... It's a keeper , hope it lasts a long time.
07/24/2020
MAUREEN P.
United States
My mitomax
Overall, good experience. Skin seems better. I'd hoped for better results on red skin splotches, but it's only been 6 weeks. Sun spots on hands are deminishing
07/21/2020
Joanne S.
United States
Fewer aches and pains
Overall experience has been great! I do feel better, however, I need to be much more consistent using my Mito Max. Need a few more weeks/months to give you a much more thorough review. Great time to meditate!
07/16/2020
David M.
United States
Great price for a great light
There aren't a lot of these out there. My previous experience was with a friend's lamp, a different brand that is expensive. I live in the Phoenix area, so I was close to the Mite Red location and saw the lamps in person. I was impressed with the construction and hardiness of the unit. I bought mine a MitoMax a few months later.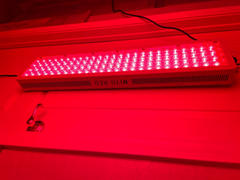 07/13/2020
Donnie B.
United States
Great product
Been using the light for a few weeks now. Ive see change in acne. Which im really happy about
07/10/2020
Gayle D.
United States
I upgraded to the Mito Max
I started out with the Mito Mini. I was so impressed by the pain relief and feeling of relaxation, I bought the Mito Max. I wish I would have just gone all out and bought the Mito Mega from day one! I still use the Mito Mini in conjunction with the Mito Max. Buy the biggest you can afford from the start, it is worth it!