---
---
---
Super charged, high powered full body treatment with the MitoMAX 1000w 200 LED red light therapy device. Best full body red light therapy panel available on the market. Compare to lower-powered 36 inch panels that can run $1195 or more! Four whisper quiet fans keep LEDs cool ensuring 50,000 hour lifespan. Dual switches, one each for 660nm (Red) and 850nm (NIR), allow for full customization of the session. Use Red, NIR or both at the same time! Highest irradiance on the market. 2 Year Warranty.
Independent 3rd party testing shows the MitoMAX delivers an industry leading 48,344 joules per 10 minute session. 
Includes:
1 X Power cord
1 X Goggles
1 X User Manual
1 X Steel cable
1 X Door hanging hook
1 X Adjustable height pulley system

Specifications
Size: 36" X 9" X 3"
LEDs: 200  x 5w
Wavelengths: Enhanced Spectral Energy Output™ : 50% Red (peak power 660nm) and 50% NIR (peak power 850nm)
Irradiance: >110mw/cm2 @ 6 inches
Switches: Dual switches, one each for 660nm (Red) and 850nm (NIR), allow for full customization of the session. Use Red, NIR or both at the same time! 
Lifespan: 50,000+ hours
Beam Angle: 60 degrees
Weight: 20 lbs
Power Consumption: 360 
Warranty: Full 2 year warranty
Compatible with all worldwide voltages. 
Download the full user manual here.
---
Customer Reviews
Write a Review
Ask a Question
03/30/2020
Jory O.
United States
Reaction
I am in my fourth week of using this device and in the instructions it mentions results in 8 to 12 weeks. I am half way there. So, I am feeling more energetic, better sleep wise and too soon to say about my knees and skin though people have commented how refresh looking I appear. Well, that is a start..get back to me in another month or so and hopefully I will have more to report. My question is...this having any effect on this virus? That would be great since reading up on it...it works down on the cellular level too..
03/19/2020
Brenda T.
United States
Mito Max for Great Pain Relief and Overall Feeling of Well Being!
I heard about Mito Max from a friend who was using it to relieve the swelling and stiffness of her arthritic hands. After listening how quickly the Mito red light therapy had worked for her--just a few weeks--I was sold. Within a week of using the Mito Max, the chronic hip and thigh muscle tightness I had for over a year due to a groin muscle strain dramatically improved and after two weeks all the tightness resolved. After 4 weeks I can now walk with an easy, comfortable gait, no more tight muscles and no soreness in my hip joints!! Other benefits I have seen include the following: 10 minutes of red light can energize me if I feel fatigued at the end of the day. My skin looks better; any blemishes heal faster. I feel more relaxed after a red light session. I think it is also helping my immune system since I recovered from a sore throat in about 1/2 the time it usually takes.
03/18/2020
Rachelle B.
United States
Pain Reliever
I was recommended to use MitoRedMax by my coach as I have issues with my right hip due to a childhood injury. It's become an integral part of my morning routine! I've only been using it for a few weeks and already notice a difference with my recovery. I also use it directly on my face and have noticed improvement with my skin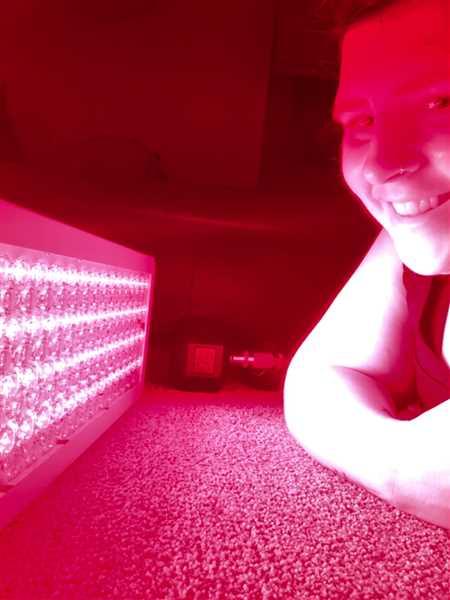 03/11/2020
Sherri H.
United States
Mighty Mito Light
I have been using the Mito Max for 3 weeks daily. I have noticed improved sleep, my skin looks good, I have less pain and I get over muscle and nerve pain faster. I also have much more energy throughout the day! I would definitely recommend this product.
03/07/2020
Lisa O.
United States
03/03/2020
Bettie P.
United States
Awesome!
I loved my Mito Red Lights so much! I have 2 of them! I have had them for about 6 weeks. The first thing I noticed is that they helped with my leg and feet cramps. Next, my deep wrinkles are lessening! I never thought that would ever be possible! My severe shoulder tension and neck tension is relieved by using the Mito Red Lights. I am so happy that I bought this product!!! Also, the customer service is wonderful!
02/21/2020
Craig S.
United States
Recovery with Red
I've enjoyed using my new red light. My biggest impression in the short time I've been using it is I feel that I recover better after a workout and I don't become as sore after a hard workout.