MitoMAX
Product Description

Super charged, high powered full body treatment with the MitoMAX 1000w 200 LED red light therapy device. Best full body red light therapy panel available on the market. Compare to lower-powered 36 inch panels that can run $1195 or more! Four whisper quiet fans keep LEDs cool ensuring 50,000 hour lifespan. Dual switches, one each for 660nm (Red) and 850nm (NIR), allow for full customization of the session. Use Red, NIR or both at the same time! Highest irradiance on the market. 2 Year Warranty.

Independent 3rd party testing shows the MitoMAX delivers an industry leading 48,344 joules per 10 minute session. 

Includes:
1 X Power cord
1 X Goggles
1 X User Manual
1 X Steel cable
1 X Door hanging hook
1 X Adjustable height pulley system


Specifications

Size: 36" X 8.25" X 2.75"

LEDs: 200  x 5w

Wavelengths: 50% 660nm (red), 50% 850nm (near infrared)

Irradiance: >100mw/cm2 @ 6 inches

Switches: Dual switches, one each for 660nm (Red) and 850nm (NIR), allow for full customization of the session. Use Red, NIR or both at the same time! 

Lifespan: 50,000+ hours

Beam Angle: 60 degrees

Weight: 20 lbs

Power Consumption: 360 

Warranty: Full 2 year warranty

Compatible with all worldwide voltages. 

Download the full user manual here.
Customer Reviews
12/12/2019
Kevin C.
United States
Excellent product!
I purchased the Mitomax after doing a lot of research and comparisons. It's one of the most stronger devices on the market for a fraction of the price. I've been using it daily and have noticed a huge difference in mood and energy levels. Super content with my purchase!
12/10/2019
Stewart S.
United States
GREAT FOR SKIN!
Since using MitoMax (with 660 nm and 850 nm), this has been the best treatment for my acne ever. I still use an exfoliation scrub, but otherwise minimal need for other acne skin cream / ointment treatments. In addition, the 10 minutes of light is my auto-scheduled time for meditation!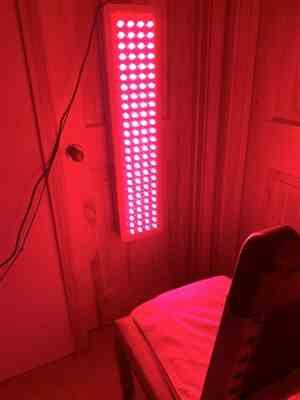 11/25/2019
mercedes s.
United States
Good product
It is the only company selling this machines where you can get a human being on the phone It has helped me with digestive issues A week ago a heavy object fell on my ankle instantly got swollen the machine helped with the swelling took the pain and accelerated the healing I am happy I have it
09/19/2019
Shannon B.
United States
Love It!
Although I loved my MitoMax from the start, I waited to give a review until I had seen some results. I purchased the light mainly to see if it would help heal my brain from years of limbic system impairment/being stuck in fight or flight mode. Oddly enough, during other methods of healing therapy, I would instinctively hold my head near a soothing pink lamp I own, feeling as if I needed to shine a light into my brain. This is before I had ever heard of red light therapy! While I have not noticed any improvement in my brain just yet, I immediately loved the light. I find it very relaxing, and I find very few things relaxing! I wanted to have more reason than that to love it, but my husband said that alone is enough reason to keep the light and to just enjoy it. Last week, I went back to work after a long summer off. I own a dance studio, and the first week back is usually brutal. We teachers always end up complaining that our entire bodies hurt as our muscles get reintroduced to dancing. This year, I had NO muscle soreness! NONE! My teachers, who are all at least 22 years younger than I am, have complained about the usual soreness, but not me! I have run up and down our studio steps a hundred times and danced full out with the kids without issue. HERE is my proof that it is working! Now I can enjoy my daily light therapy even more. ♥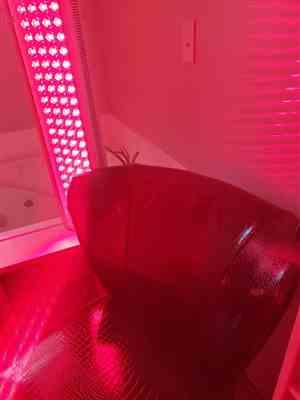 09/17/2019
Matt H.
United States