---
---
---
Super charged, high powered full body treatment with the MitoMAX 1000w 200 LED red light therapy device. Best full body red light therapy panel available on the market. Compare to lower-powered 36 inch panels that can run $1195 or more! Four whisper quiet fans keep LEDs cool ensuring 50,000 hour lifespan. Dual switches, one each for 660nm (Red) and 850nm (NIR), allow for full customization of the session. Use Red, NIR or both at the same time! Highest irradiance on the market. 2 Year Warranty.
Independent 3rd party testing shows the MitoMAX delivers an industry leading 48,344 joules per 10 minute session. 
Includes:
1 X Power cord
1 X Goggles
1 X User Manual
1 X Steel cable
1 X Door hanging hook
1 X Adjustable height pulley system

Specifications
Size: 36" X 9" X 3"
LEDs: 200  x 5w
Wavelengths: Enhanced Spectral Energy Output™ : 50% Red (peak power 660nm) and 50% NIR (peak power 850nm)
Irradiance: >110mw/cm2 @ 6 inches
Switches:
Dual switches, one each for 660nm (Red) and 850nm (NIR), allow for full customization of the session. Use Red, NIR or both at the same time! 
Lifespan: 50,000+ hours
Beam Angle: 60 degrees
Weight: 20 lbs
Power Consumption: 360 
Warranty: Full 2 year warranty
Compatible
 with all worldwide voltages. 
Download the full user manual
here.
---
Customer Reviews
Write a Review
Ask a Question
06/30/2020
Michele G.
United States
MitoMax
Great experience. Excited to use and research this technology.
06/29/2020
Kathy L.
United States
Loving the Red Light!
It has been a tremendous help with the ongoing battle against pain and inflammation. Once a routine has been established of daily use, there are definite benefits.
06/25/2020
lexus n.
United States
Anti inflammatory
Love my new mito max and very impressed with effectiveness in minimizing skin and joint inflammation. I sit in front of it for 15-20 min each day. The quality is also sturdy and ease of set up as well as the adjustable door hanger was a great added bonus! For the price I am so glad I choose mito max ( was debating between this brand and joove or sauna space)
06/20/2020
Alan H.
United States
True Full Body Panel
The MitoMAX is awesome, love it! Using it together with the MtoMIN is even better. The MIN also doubles as a great travel light. Seeing so many benefits from daily use... post workout improves recovery immensely, sleep is better, increased energy, reduced joint pain, reduced nerve pain, quicker healing of tendonitis, test results show male hormone levels in good shape for an old guy (618, sorry no image to show), and chronic dry knuckles on both hands have improved significantly which was a surprise benefit.
06/11/2020
Susan D.
United States
Red light Healing at Home!
I found red light a few years ago and found it to help with recovery and seasonal blues. The Mito Red is really impressive! I set it up by my spin bike or yoga mat and use at least 3 days a week. It was helped me to recover from knee surgery and keeps my skin healthier! Friends have been amazed by my scars healing in Weeks!
06/10/2020
Garland M.
United States
High recommend
First of, I was highly skeptical re: whether or not this was going to help with my chronic back pain. I've had my machine for about a month now, and after about a week of consistent use I noticed a significant decrease in my back discomfort. I'm highly impressed and so far am very happy that I made the purchase. I would highly recommend it. Also loving the aesthetic benefits it has on my skin.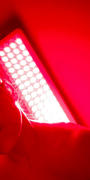 06/02/2020
Turell D.
United States