---
---
---
Super charged, high powered targeted treatment with the MitoMID 500w 100 LED red light therapy device. Compare to a competitor's lower-powered and smaller (15") panel priced at $695.

Two whisper quiet fans keep LEDs cool ensuring 50,000 hour lifespan. Dual switches, one each for 660nm (Red) and 850nm (NIR), allow for full customization of the session. Use Red, NIR or both at the same time! Highest irradiance on the market. 2 Year Warranty.
Independent 3rd party testing shows the MitoMID can deliver an industry leading 24,167 joules per 10 minute session. 
Includes:
1 X Power cord
1 X Goggles
1 X User Manual
1 X Steel cable
1 X Door hanging hook
1 X Adjustable height pulley system 
Specifications
Size: 19" X 9" X 3"
LEDs: 100  x 5w
Wavelengths: Enhanced Spectral Energy Output™ : 50% Red (peak power 660nm) and 50% NIR (peak power 850nm)
Irradiance: >100mw/cm2 @ 6 inches
Switches: Dual switches, one each for 660nm (Red) and 850nm (NIR), allow for full customization of the session. Use Red alone, NIR alone or both at the same time! 
Beam Angle: 60 degrees
Weight: 9 lbs
Lifespan: 50,000+ hours
Actual Power: 170
Warranty: Full 2 year warranty
Compatible with all worldwide voltages. 
Download the full user manual 
here.
---
Customer Reviews
Write a Review
Ask a Question
01/21/2020
Carole I.
Canada
Red Light & NIF
Improved sleep, Seems to be helping my injured arm from lifting 5 lb. weights. Skin improvement.
01/03/2020
Chris C.
United States
Red Light
It has been great I have only used it for a short period but I do feel a difference. My lower back has been an issue it has relaxed and feels better
MJ
01/01/2020
Maria J.
United States
Using this as part of my "miracle morning"
I've been incorporating the MitoMid into my morning routine and usually use it around 6:30am during my meditation. It's definitely more powerful than the red light I was previously using at Planet Fitness and I can see more improvement in my facial skin texture and stretch marks. It's a little too stimulating to me for everyday use, so I'm cutting back to every other day. Or maybe I'll alternate where I use it and keep my use under 12 min. I'm still experimenting. Because it's so stimulating, I'm kind of glad I didn't get a bigger light. This seems like the right size for me.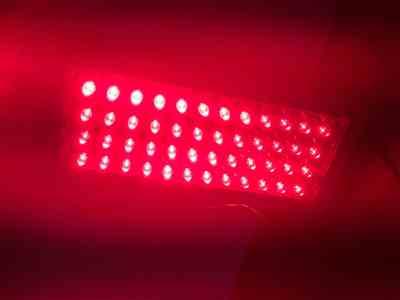 12/24/2019
Adam S.
Canada
So many benefits!
So far, my experience with the Mito Red Mid has been excellent! Upon arrival, it is evident that the quality and value of the device compared to others is second to none. It's simple to use and I feel confidently backed by their 2 year warranty and stated 500,000 hour lifespan. My skin is glowing, the swelling of my thyroid is reduced, and inflammation/pain of my joints from playing hockey – knees and wrists specifically, feel noticeably better after a quick 5 minute spot treatment.
12/08/2019
Miriam P.
United States
Amazed!!!
Thrilled is the word I use to describe my experience with my red panel by Mito.. So thrilled that I bought a second smaller one for my legs while I do my face all I can tell you is it's addictive and it changed my mood while it does great things for my skin I really bought it to get my mood up and to help my hairline so far I've been using it for 10 days maybe 11 and I do feel different so who knows what's going to happen after 30 days I am thrilled happy and amazed I highly recommend this product it's well-made and it has a very good structure...
11/24/2019
Austin R.
Canada
MitoMID Review
Everything about this product so far is excellent. The shipping arrived quickly within the expected time of delivery and in perfect condition. I have been using the product once a day, for one 30 minute session (15mins on front, then 15mins on back). I have been using it for almost a month now, and have been able to use it on average at least 5-6 days per week. So even though its early to note any profound changes, I am still able to say I have noticed improvements with energy levels and skin tone. I was originally going to get the MitoMIN, however I felt that with the MID I can hit a larger area of my body with the light and reduce the time for a 'session'. I look forward to using the product for longer and highly recommend this model.
10/21/2019
Sheila P.
United States
Love the light.
I bought this light for my Mother who is 80 years old and has constant neck pain. We both started using the light right away and was not ready to write a review until I noticed any major changes in our bodies. It has now been 4 months using 5 days a week. My mothers aches and pains are less than before. She is still able to function doing her daily chores. I hear less complaints. I have lost 6 lbs, my skin tone looks better, I sleep deeper, my hot flash are less frequent and milder, I was a 4 to 5 degree before and it has come down to a 1. I feel the light works subtly and like that it heals the body from the inside out. My knee and hip joint don't hurt any more. My cellulite has reduced too. I love this light for it truly heals. The light is very well made, sturdy and like the option of using either or both lights. Thank you for bringing this to the market. My deepest gratitude to you.