MitoPRO Series
The most advanced red light therapy devices ever Created.
Scientifically Driven
Available only from Mito Red, the patent-pending MitoPRO series incorporates the four most bio-active wavelengths 630nm / 660nm (Red) and 830nm / 850nm (Near Infrared). This unique configuration drives enhanced efficacy by delivering increased light energy at the parts of the spectra which maximize cytochrome c oxidase activation.
Complete Flexibility
Use Red (630nm / 660nm) alone, Near Infrared (830nm / 850nm) alone, or both at the same time!
Modular Design
Physically and electronically connect your panels together. The MitoPRO series modular design allows for full customization and multiple configurations to support any in-home or commercial application. Build as you go!

Integrated Digital Control Panel
Integrated digital control panel with built in timer allows you to control your entire light array with the push of a single button!
$299.00
The Mito Red Light Stand allows for complete flexibility and mobility and is ideal for any in-home or commercial application. The Mito Red Light Stand has a total load capacity of 100 pounds. 

WHAT'S INCLUDED
1 - Power Cable
2 - Linking Power Cable
3 - Detailed User Manual
4 - Over-the-door hook
5 - Steel Hanging Cables
6 - Adjustable Pulley System
7 - Protective Goggles
Fast Free Shipping
Free USA Shipping and Worldwide Shipping Options Available

60 Day Trial Period
No hassle returns. No hidden restocking fees.


Phone
Support
Monday-Friday 9am-5pm MST
1-480-597-4649


Financing Available
Just select AFFIRM during checkout to see the options.

Full
Warranty
Warranty coverage up to 3 years, but our lights are built to last forever.

Superior
Design

High Power, Low EMF and Flicker Free!


Customer Reviews
Write a Review
Ask a Question
02/21/2021
Mike T.

United States
Such a Great Company to Deal With.
I have been extremely happy with my decision to purchase the MitoPro 750 and 1500 combo.  I was getting the run around from a competitor, about shipping time and availability.  The folks at MitoRed were completely different.  They were upfront and honest with availability and delivered my RLT devices promptly.    They answered all my questions quickly and were amazing to deal with.  My family has used the RLT devices for back and knee pain as well as skin issues.  The MitoPro has worked flawlessly and is really well build.  I look forward to my Red light session and I am already noticing a difference.   Without question, I would recommend MitoRed to anyone who wants to deal with an honest company, who cares about your health.  Scott and the MitoRed team are really great people who went out of their way to help me.  I hope you give them a chance to help you too.  You won't regret it. --Mike Tavares
02/18/2021
Denise S.

United States
Great product!
I have been using Red light therapy devices for quite a long time on and off. For the past 5 years I was using another company's product that was touted mainly as a beauty product which was fine because that's what I was using it for. However, I had to replace their product twice in those years(only getting a little over 2 years out of each of the device). Their warranty was only for 2 years. I tried calling their customer service and was told there was nothing they could do. So, I started doing research and found your products and called. The representative was patient and helpful answering all of my questions. So, I ordered the small Mito Pro device knowing that it would be the closest in comparison to what I've had before. Wow! Have been super impressed with the output I'm seeing. So much brighter and treatment area is larger than what I've used in the past. Im seeing results in a short amount of time in the texture and brightness of my skin. It takes a little bit of adjustment figuring out how to treat the face without actually being able to hold it but worth figuring out. I am very happy to have found your company and am confident that I have received a superior product for almost the exact same price.
02/17/2021
Connie F.

United States
Mitopro red light
Delivery was quick. Product was packaged very well. The light came out of the box, got plugged in, worked immediately. I read the instructions later and got some good advice. I hope to keep my skin healthy. I hope to trigger some bone building in my spine. Occasionally my knee aches so I red light it. I broke my toes last December and used the red light to speed healing. I just had gallbladder surgery and used the red light to speed healing. I did not have much discomfort from the surgery and began red light about 24 hours after surgery. Maybe it helps. I like to think these things are being accomplished. It seems that my skin looks brighter, my toes are pretty completely healed. My knee rarely aches and can not say if the light works except that it seems to! I am very interested in eye health and red light so any new information there would be great. Also interested in **** health with red light. Hair growth around temples, eyelashes and brows would be great. Oh, also direct the light to my thyroid for whatever benefit that could be.
02/17/2021
Brian

United States
Great for after workout recovery
I was kind of wary of the red light technology when I first heard about it, so much that I and even kept the boxes that the lights were shipped in so I could return them for a refund when they didn't live up to their hype. I can honestly say that they are helping me recover from grueling workouts that I do in the off season to prepare for the upcoming race season. My current training has me doing 5 to 6 hour runs and rucks every 4 days as well as rowing 20,000 to 30,000 meters on the days I don't run. Since I started using the light, I have not had any soreness between workouts and feel that I recover much faster from day to day. I'm hooked and a true believer in the red light technology now!
02/17/2021
Imran

United States
works great
Main use: sit facing away from it, letting it warm my spine for 20 min at a time, ever since i've been doing this, my low back stiffness/pain is resolving, I have more range of motion now, I am moving better at 40 than I did at 20. I love enjoying my tea , or reading a book during my mito red light time, sometimes I take care of my work on my laptop while enjoying a light bath. other uses: any skin irritation, when not feeling well. headaches. I feel like it helps me feel good, improves mood. it reminds me of sitting by a nice warm fire. my wife initially thought I was wasting money on this unit, but now she says 'its a nice smooth heat, which gives you relief from pain in tight muscles'. she now says "its a good purchase" bonus, my cat loves it.
02/16/2021
A. Barrow

United States
So Far, So Good
Have had a pair of Mito Pro 1500 panels for a few months now. We do 15 minutes a side, front and back on most days. Biggest difference has been in the texture of my skin and the growth rate of my hair. I've watched the slow, steady repair of UV damage on the backs of my hands and forehead. I also seem to be starting to see collagen remodeling in places. I lost a huge amount of weight in the past couple of years, and I'm noticing a shallowing of old stretch marks. There's also a surgical scar on my back that's gradually disappearing. Eventually, when we have the room for it, I plan to gut a dead tanning bed and mount light panels inside it to get one full-body blast of light every day. Currently, the panels are secured end-to-end behind the bedroom door as sort of an impromptu light booth. Works well enough for now. I'm perfectly satisfied with the panels thus far and consider them a worthwhile investment in our health and well-being.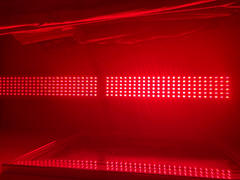 02/16/2021
Jane E. Thompson

United States
Mito Red Pro
I love the units... It was east to set-up,...And even though the supply was low, I think I got mine in a few weeks. But I had to come up with a different way to use it,.. If I wanted to get the most out of my units, and use them right away.... As the stands for the four light package I ordered, were on backorder at the time.. So I put my creativity to work, and I mounted the lights to two new rod iron garden trellises, I had not installed into my garden last season, and used extra heavy zip ties to zip the two garden trellises together on one side forming a 90 degree angle with two of the light panels on each trellis panel. The lights, on these make the set-up like standing behind a screen, but in front of it... I built this design into a spare shower we do not use, and it works great.. It is like a stand up red light therapy box.. I also turn on a box fan at the doorway, to keep it cooler during the session... Currently I am still toying with a 10, 14 or 15 minute session, exposing my frontside for 7-7.5 minutes, and then my backside 7-7.5 minutes... I get restless after about 5 minutes a side standing there... But was in such a state of struggle with my health at the time. I pushed myself to go the distance, and even set a small egg timer for half of the time, so I would know when to flip to my backside. The lights are at right angles and I stand facing the corner as the center, of the two panels.. I think it would work even better, or the very best, if the stand I currently have,. Could be configured into a three sided unit, that could be raised or lowered over a bed or massage table, and hold three sets of panels, in this same kind of set up as my shower... Kind of like a tanning bed form, lowering over you on all sides, and then all you would have to do is just flip over half way through.. It would be more relaxing, than trying to stand there in one spot for the duration... As I have old broken ribs that bother me standing unsupported, as the break snapped back, pinching some nerves and tissue causing a very uncomfortable area under my shoulder blade.. I have now received the stand, but have yet to set it up on the stand, as I think, so far what I have is working even better, as I have it set up, rather than just flat... I think if the stand also could wrap around, for those who would be comfortable to stand, or had limited space to put them... It would be great, less time needed to do each session... The new design would include three or four sets of panels, handles, hinges, and and wheels to open and close the devise.. Using the devise I am feeling better getting rid of toxic build ups within my body.. But I was disappointed my lights are not as red as the ones shown in every photo... They seem to be more orange and yellow... And I have great eye sight for color distinction, as I can detect greens, blues, and yellows in white... The lights tend to dry our my skin, using it for the 14-15minutes for a total session.. So maybe I need less time under them.... I am, a several a day,. 32oz ball jar kind of fluids person, from vinegar water, lemon water, herbal and garlic teas, to just plain water. I have not been able to distinguish anything so far, for sure, that is improving with my skin or hair growth. As I am not sure if my hair was in a shed phase, and now it is in it's growth phase, returning to it's normal thickness... Or if perhaps, it was the red light therapy that kick in it's growth and thickness phase.. I did noticed a few weeks ago, due to wearing my hair up in a high ponytail, it seemed thicker do to being able to wrap it less times in my ponytail holder.. I am still in the experimenting phase of using my units.. Hoping to get the best timing, exposure, set-up, and results... I do tons of things to improve my health daily... And so it is very hard to distinguish what is making the most difference or a difference...All I know is I am in better health currently than even just a few weeks ago.. Why did I decide to buy a red light Infared light therapy Pro set-up.... I am a Massage Therapist School graduate, and I heard wonderful stories, of children and adults who were severely sick. And were put in light therapy rooms overnight and where much better the very next day.. Then I read a review of a person on your sight, that was using red light therapy on a daily basis, at a spa type facility.. And due to Covid she was no longer, able to go to her red light therapy, spa facility location... And she could tell a big difference in how she felt every day.... So she looked for other locations that might be open with a red light therapy offered, and she could only find a medical facility... And the cost was prohibitive, and the drive was almost an hour away.. So she opted to buy one, that she could use at home from you guys at Mito Red... And the rest is history... I have included a photo of my current set-up...