MitoPRO Series
Buy 2 panel package, save an additional 5%. 
Buy 4 panel package, save an additional 8%. 
Discount automatically accounted for in package price.  
Mobile stand sold separately (not required for use). Click for assembly videos and user manual.
Learn more about the science behind the MitoPRO here. 
60 Day Trial Period
60 Day Trial Period. No hassle returns. No hidden restocking fees.
Fast & Free Shipping
Free USA Shipping and Worldwide Shipping Options Available.
Financing Availability
Just select during checkout to see the options.
Full Warranty
Warranty coverage up to 3 years, but our lights are built to last forever.
Available only from Mito Red, the patent-pending MitoPRO series incorporates the four most bio-active wavelengths 630nm / 660nm (Red) and 830nm / 850nm (Near Infrared). This unique configuration drives enhanced efficacy by delivering increased light energy at the parts of the spectra which maximize cytochrome c oxidase activation.
Use Red (630nm / 660nm) alone, Near Infrared (830nm / 850nm) alone, or both at the same time!
Set your session time, hit OK and sit back and relax!
Connect together on the back of the door or on our Mito Red Light Mobile Stand!
Compare The Models
MitoPRO 300
Power:
300w (rated power)
Wavelength:
630nm, 660nm, 830nm, 850nm
Irradiance at 6 Inches
(mW/cm2)
>100mW/cm2
Lens Beam Angle:
60 Degrees
Best Used For:
Targeted Treatment
MitoPRO 750
Power:
750w (rated power)
Wavelength:
630nm, 660nm, 830nm, 850nm
Irradiance at 6 Inches
(mW/cm2)
>120mW/cm2
Lens Beam Angle:
60 Degrees
Best Used For:
Half Body Treatment
MitoPRO 1500
Power:
1500w (rated power)
Wavelength:
630nm, 660nm, 830nm, 850nm
Irradiance at 6 Inches
(mW/cm2)
>125mW/cm2
Lens Beam Angle:
60 Degrees
Best Used For:
Full Body Treatment
What's Included
1 x Power Cable
1 x Linking Power Cable
1 x Detailed User Manual
1 x Over-The-Door Hook
1 x Steel Hanging Cables
1 x Adjustable Pulley System
1 x Protective Goggles
Get The Mito Red Light Stand
The beauty of the MitoPRO series that panels can be combined. When ordering combinable panels make sure and add our Red Light Stand to your order!
Customer Reviews
Write a Review
Ask a Question
06/15/2021
Tami P.

United States
MitoPRO
I LOVE this light! Posititive results from the first session. Plan to purchase another (smaller) as soon as possible. Thank you so much Mito team!
06/04/2021
Sheri N.

United States
I am a believer
I have used infrared therapy for several years, but only with a small facial infrared light. This takes it to a whole new level! So quick and easy to use. Very efficient and effective! I love my Mitro Red panels because I can do my whole body in less than 15 minutes! Mito Red is a critical part of my wellness routine for athletic performance recovery, anti aging, inflammation, and happy mood!
06/03/2021
Alice W.

United States
I am finding improved strength in my right arm.
I know I will find Mito Red light therapy amazing in time. We have been Traveling to visit children in Texas and Florida. The little that I have used it, I can feel an increase in strength in the arm I broke in 2014. Soon I will be able to use it on a regular basis. I will be happy to report back in a month or two. I am anxious to see the benefits as the weeks go by.
06/02/2021
Leslie P.

United States
Mito 300 pro. Alopecia and Degenerative brain disease
I started using red light / infra red light about three weeks ago for alopecia and a pain that I have in my right hip also I'm giving my varicose veins a treatment will see what happens there . So far my experience with my machine has been great . I won't be able to see results for my hair for several months as it takes that long for hair to grow . I did take before pictures and will publish my head shots in a few months . I also purchased this red light infrared light for my sister I take it to her house every day she has a degenerative brain disease called progressive super neutra palsy. PSP for short this is very rare and there have been no clinical studies for this disease I have read where it works for Alzheimer's and Parkinson's and relieves some of the symptoms I'm hoping since the symptoms are similar but this will help my sister 's Degenerative brain disease . This would surely be a miracle since there are no medication or cure as of yet for this disease . I have been treating her head for about eight days now and keeping a log I would be curious to know if anybody else has tried red light therapy for A degenerative brain disease there is little information written about how much time and what wavelength to use I am using the mito pro 300. So as you can see I'm really getting my use out of my machine trying it for all different issues
06/02/2021
Guy F.

United States
Mitopro review
I was pleasantly surprised at this machine. I bought it for many reasons. My spouse has frozen shoulder, I had a nagging neck issue and my kids play sports so I was looking for something to assist in recovery. This has helped with my neck issues. The issue was main musculoskeletal and after using this for a few days, my range of motion increased including more pain free range. Now it still feels tight at end ranges but I am able to work those out manually and this machine allowed me to do so. For the frozen shoulder, it has helped as well. Moderate increase in range of motion with just 10 min per day so far. Much more difficult of a situation but this machine did provide improvement without causing any pain. For recovery, the kids say it has helped, being able to engage in 3 straight days of tournaments. This machine was actually bigger than I thought and is not as portable, meaning, I did not take it on a plane and am thinking of getting a more portable device. Overall, this machine has helped even though I was skeptical myself. I would not have believed it if I did not try it. Its not a miracle worker but it does work in conjunction with other forms of therapy for me at least.
05/30/2021
Kristina J.

United States
Best investment I
After months of research, I finally decided on the MITO light and it hasn't disappointed. I just purchased the green tea serum and cannot wait to use with my light. I've used my light for 20 mins every day for 2 months and I can see a difference in my skin tone, texture and my dark under eye circles are disappearing. I've also noticed I'm sleeping better...I feel fantastic! If you are skeptical, like I was, trust me when I say you can't go wrong with any of the MITO lights.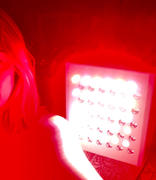 05/25/2021
Connor S.

United States
Love it
Easy to use and feels like it's working great!