---
---
---
There is absolutely nothing else on the red light therapy market like the new MitoMEGA! The MEGA has an unprecedented 300 5w bulbs for a total 1500w of Red Light Therapy Power! Five extra large yet quiet fans keep LEDs cool ensuring 50,000+ hour lifespan. Dual switches, one each for 660nm and 850nm, allow for full customization of the session. Highest irradiance on the market. Full 2 Year Warranty.

The MitoMEGA contains NO unnecessary / ancillary components so it still weighs in at only 25 pounds! 
Independent 3rd party testing shows the MitoMEGA can deliver an unprecedented 72,500 joules per 10 minute session. 
Includes:
1 X Power cord
1 X Goggles
1 X User Manual
1 X Steel cable
1 X Door hanging hook
1 X Adjustable height pulley system 
Specifications
Size: 36" X 12" X 3"
LEDs: 300  x 5w
Wavelengths: Enhanced Spectral Energy Output™ : 50% Red (peak power 660nm) and 50% NIR (peak power 850nm)
Irradiance: >125mw/cm2 @ 6 inches
Switches: Dual Switches, one for 660nm, one for 850nm allow for full customization of the session. Use Red only, NIR only or both at the same time! 
Beam Angle: 60 degrees
Weight: 25 lbs
Lifespan: 50,000+ hours
Power Consumption: 600 
Warranty: Full 2 year warranty
Compatible with all worldwide voltages.
Download the full user manual here.
---
Customer Reviews
Write a Review
Ask a Question
04/02/2020
Michael S.
United States
03/02/2020
Terry V.
United States
Amazing
The Red Light Treatment Experience has been one of the most effective healing methods I've found for my body. I was having a serious fat reduction issue around some of my organs that seemed to cause me problems that I would have to deal with through the doctor, after treatment for about a month of the red light I have found several medical issues to have almost gone away completely. I am so sold on the value of red light in my life.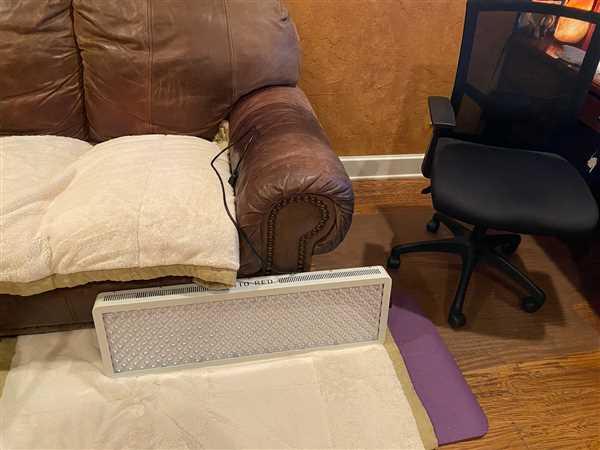 02/22/2020
Paul T.
United States
The best red light device I've used yet
Much higher-intensity than any other red light device. Very satisfied customer.
02/22/2020
Rick P.
United States
MitoMEGA is Wonderful!
I am a very happy user of the MitoMEGA! I bought the MitoMID initially and used it for a couple of months and enjoyed it, but I decided to return it and purchase the MitoMEGA because I wanted the larger panel to cover my upper body (I'm 6'2"). I use it almost every day for about 30 minutes (10 minutes front, 10 minutes each side) primarily for skin benefits and anti-aging. I deviated from the usual mode of installation and decided to mount it horizontally above my bed. I installed a closet rod above my bed and now I can lower the panel down to the right distance from my body and I can slide the panel down the rod to cover my lower body. Much better than standing or sitting in front of it! I installed an inexpensive Smart plug and now I can control the panel from my Google Home or my tablet. I listen to music, podcasts, or TV while under the panel. The Smart plug software also has a timer which is much needed because I frequently fall asleep as I enjoy the warmth and soothing sound of the fans. The skin benefits take time to develop but I can notice the improvement. Very happy with the purchase!
02/04/2020
Chris L.
United States
Coffee not needed
I purchased the Mega about six months ago. I use it as an alarm with a timer and get in front of every morning. I live in Seattle, the land of endless coffee and grey fall, winter, spring days. Since using the Mito, the biggest benefit I have noticed is a surge in sustained energy. I have since given up coffee completely. No need to line the pockets of Howard Schultz any more. Chris

01/20/2020
David H.
United States
Mito Mega
I am thoroughly enjoying my Mito Mega light! I have used the light every day for two weeks and am very happy with the light and especially the quality of the light. I made a fixture to mount the light to the wall. I can easily lie on my massage table and then lower the light above me. David H.
01/19/2020
Brett T.
United States
No complaints, especially for the cost =)
Very well built, quality product, especially considering how much cheaper this product is compared to Joovv--every part seems to be of high quality and is assembled flawlessly. I have not completed any testing to validate the stated performance, so I cannot personally speak to this. I have not been using it as consistently as I would like, so I also cannot yet say that I have experienced all the expected results. However, it is quite relaxing to use and feels great. In addition to this, I can definitely tell a difference in my sleep quality when I use it--placebo effect or not, I am satisfied =)