MitoMEGA
Sale!
$999.00
$2,195.00 USD
There is absolutely nothing else on the red light therapy market like the new MitoMEGA! The MEGA has an unprecedented 300 5w bulbs for a total 1500w of Red Light Therapy Power! Five extra large yet quiet fans keep LEDs cool ensuring 50,000+ hour lifespan. Dual switches, one each for 660nm and 850nm, allow for full customization of the session. Highest irradiance on the market. Full 2 Year Warranty.

The MitoMEGA contains NO unnecessary / ancillary components so it still weighs in at only 25 pounds! 
Independent 3rd party testing shows the MitoMEGA can deliver an unprecedented 72,500 joules per 10 minute session. 
Specifications
Size
: 36" X 12" X 3"
LEDs: 300  x 5w
Wavelengths: Enhanced Spectral Energy Output™ : 50% Red (peak power 660nm) and 50% NIR (peak power 850nm)
Irradiance: >125mw/cm2 @ 6 inches
Switches:
Dual Switches, one for 660nm, one for 850nm allow for full customization of the session. 
Use Red only, NIR only or both at the same time! 
Beam Angle: 60 degrees
Weight: 25 lbs
Lifespan: 50,000+ hours
Power Consumption: 600 
Warranty: Full 2 year warranty
Compatible
 with all worldwide voltages.
Download the full user manual 
here.
Mito Red Original Series, MitoMOD Series and MitoPRO Series are FDA registered Class II devices.
Free USA Shipping and Worldwide Shipping Options Available.
No hassle returns. No hidden restocking fees.
Just select during checkout to see the options.
Warranty coverage up to 3 years, but our lights are built to last forever.
High Power, Low EMF and Flicker Free!
Compare The Models
MitoMIN
Wavelength:
Red 660nm / NIR 850nm = 50/50
Irradiance at 6 Inches
(mW/cm2)
>85mW/cm2
Lens Beam Angle:
60 Degrees
Best Used For:
Targeted Treatment
MitoMID
Wavelength:
Red 660nm / NIR 850nm = 50/50
Irradiance at 6 Inches
(mW/cm2)
>100mW/cm2
Lens Beam Angle:
60 Degrees
Best Used For:
Half Body Treatment
MitoMAX
Wavelength:
Red 660nm / NIR 850nm = 50/50
Irradiance at 6 Inches
(mW/cm2)
>110mW/cm2
Lens Beam Angle:
60 Degrees
Best Used For:
Full Body Treatment
MitoMEGA
Wavelength:
Red 660nm / NIR 850nm = 50/50
Irradiance at 6 Inches
(mW/cm2)
>125mW/cm2
Lens Beam Angle:
60 Degrees
Best Used For:
Full Body Treatment
What's Included
1 X Power cord
1 X Goggles
1 X User Manual
1 X Steel cable
1 X Door hanging hook
1 X Adjustable height pulley system 
Customer Reviews
Write a Review
Ask a Question
05/17/2021
Diane M.

United States
Great Investment
I purchased the Mitomega panel which I started using on April 16. The first week or so I was trying to determine the best way to utilize the panel, i.e., on the pulley, or other methods. My initial research on LED Therapy started because I was interested in one of the facial LED masks. In continuing my research, I discovered the Mito Red Light products through a You Tube Influencer. I decided on the large panel because I learned that I could use it on the upper shoulder, upper back and lower back in addition to my face. After a month of usage, it seems like I am experiencing some relief in my shoulders and back. I am looking forward to continued relief and hoping for some facial line improvement. I do have some concerns. As an aside, I previously had sent emails to customer support with some questions. But I never received any responses. My one outstanding concern is the pulley system on the back of the door. The mega unit is 25 pounds. Lowering the panel is no problem. But, raising it is difficult due to the weight of the unit. One needs to hold the unit in order for the button to release to raise the pulley. I consider myself to be in great shape as I workout six days a week which includes a weight lifting routine. However, this pulley system is awkward and not user friendly. I leave the panel in one stationary position due to this which limits my body exposure. I checked out one of your competitors, Platinum LED. They have a similar sized unit for which they sell a rack stand on which the unit can be hung horizontally. This is exactly what I was looking for. The stand is on wheels and could be rolled over a bed very easily giving the user perfect access for front and back use. Do you know if the Mitomega is compatible with the competitor stand? If not, what suggestions do you have other than the pulley system for the mitomega? Overall, Mito Red is a very well-made product and the mega panel has become part of my daily routine. Sincerely, Diane LoPresti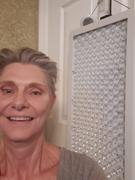 04/24/2021
Jennifer L.

United States
Glad I made the upgrade
I love my red light. I started with a mito mini and loved it, but was looking to speed up the time for full body treatment, so I invested in the big boy MitoMega. I use it almost every day and get great relief from my lupus (+arthritis) symptoms. I am so glad I made the investment. The little one doesn't go to waste- I hooked it beneath the big boy and now have head to toe coverage.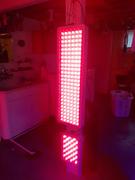 03/19/2021
Alan H.

United States
Mitored from Top to Bottom
The Mito Mega is powerful! Love it!! Really appreciate how wide it is so you can get a full treatment from one angle.
12/21/2020
Brianna P.

United States
The Warmth of Healing
Love my MitoMEGA red light! I use it while training to encourage cell regeneration as I move. It's a wonderful experience and experiment all at once!
11/13/2020
Jeannie D.

United States
So far so good!
I have been using my Mitomega everyday for about a month. I do 10 minutes on the front and 5 minutes on the back of my body. I have not noticed huge changes on skin yet. I think that takes time to promote collagen for the skin. I do notice I am sleeping better at night. I feel healthy allover. I am excited to see more positive changes over time. I will continue to us daily. It is also great for mood improvement as well. I am happy with my purchase so far.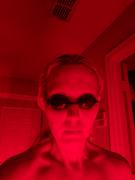 11/06/2020
JB

Canada
Excellent recovery
I have the Joovv original (2 ½ years) but wanted full body coverage (6 feet). I didn't want to spend $1400 on a new Joovv & discovered Mitored. Scott explained the pros & cons of the mitooriginal, mitomod & the mitopro. He suggested the Mitomega & how I could place it above the Joovv for full body coverage. My workout program is Athlean X XERO body weight program (which is difficult). Red-light therapy allows me to recover from muscle fatigue & soreness quicker. The difference between the Joovv 90 NIR 90 Red) vs the Mitomega (150 NIR 150 Red) is the Mitomega has 150 NIR, it has more *********** for my sore muscles, 3x the recovery speed & better coverage. I also own the MitoMIN, which I use when I am in my sauna. Mitored has excellent customer service. Shipped DHL (not UPS $$$ to Canada) I received it in 2 days & brokerage fee was $80. Thank you Scott,
10/06/2020
James C.

United States
Lizcxxxxx1405@gmail.com
SO FAR SO GOOD