---
---
---
There is absolutely nothing else on the red light therapy market like the new MitoMEGA! The MEGA has an unprecedented 300 5w bulbs for a total 1500w of Red Light Therapy Power! Five extra large yet quiet fans keep LEDs cool ensuring 50,000+ hour lifespan. Dual switches, one each for 660nm and 850nm, allow for full customization of the session. Highest irradiance on the market. Full 2 Year Warranty.

The MitoMEGA contains NO unnecessary / ancillary components so it still weighs in at only 25 pounds! 
Independent 3rd party testing shows the MitoMEGA can deliver an unprecedented 72,500 joules per 10 minute session. 
Includes:
1 X Power cord
1 X Goggles
1 X User Manual
1 X Steel cable
1 X Door hanging hook
1 X Adjustable height pulley system 
Specifications
Size
: 36" X 12" X 3"
LEDs: 300  x 5w
Wavelengths: Enhanced Spectral Energy Output™ : 50% Red (peak power 660nm) and 50% NIR (peak power 850nm)
Irradiance: >125mw/cm2 @ 6 inches
Switches:
Dual Switches, one for 660nm, one for 850nm allow for full customization of the session. 
Use Red only, NIR only or both at the same time! 
Beam Angle: 60 degrees
Weight: 25 lbs
Lifespan: 50,000+ hours
Power Consumption: 600 
Warranty: Full 2 year warranty
Compatible
 with all worldwide voltages.
Download the full user manual 
here.
---
Customer Reviews
Write a Review
Ask a Question
06/15/2020
Angela B.
United States
06/15/2020
Erin W.
United States
Mito mega
Use it almost daily for 10 minutes, I like the way it makes me feel.
06/01/2020
Jeremy B.
United States
Great quality
My experience has been great so far. I've only been using it for a few months so it's too soon to draw any serious conclusions but the craftsmanship is great and I can definitely feel the power of this things rays. So it must be doing something. I've been pleased so far. Oh, and the customer service rep was super knowledgeable. If you have questions about it just call :-)
05/27/2020
Kristie W.
United States
Better than expected
This light is amazing. I'm a Physical Therapist and read about various companies and ultimately went with MITO RED and purchased the MITOMEGA. I am amazed at the results that I have personally noticed but also that my clients are receiving. I've had a couple purchase their own and I will likely purchase another for home use. We have noticed improved skin health, reduced cellulite and general inflammation and significant improvements in mood. Personally, it does not improve sleep (instead it energizes me) but I'm very happy with the product.
05/25/2020
Michael B.
United States
05/19/2020
Becky L.
United States
Thank you MitoMEGA
Phenomenal! I had been frequenting my local tanning salon for the red light bed. 7 days a week. Then the pandemic happened and I was unable to red light. My body ached. I decided to purchase a red light from you. I have since purchased another one. I would like to purchase two more. A friend of mine has lupus and I told her about your red light and her husband bought it for her for her birthday. My skin looks incredible. I get compliments every day. I'm almost 50 years old and I think I look 30. Thank you for an amazing product!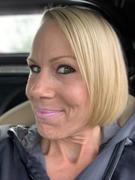 05/14/2020
Mary
United States
MitoMEGA
I've been doing red light, every day, for the past 4 years and it definitely has an impact on my skin. I've noticed a difference in small spider veins vanishing, old scars softening or disappearing (which is almost unheard of) and overall softer skin. When my salon closed due to the pandemic, I decided to buy your MitoMEGA which also has the 850 NM. Well, it seems the latter really helped in just a little over a month, in tightening the skin on my legs. Awesome! Also, attached is the set up in my basement.