MitoMEGA
Sale!
$999.00
$2,195.00 USD
There is absolutely nothing else on the red light therapy market like the new MitoMEGA! The MEGA has an unprecedented 300 5w bulbs for a total 1500w of Red Light Therapy Power! Five extra large yet quiet fans keep LEDs cool ensuring 50,000+ hour lifespan. Dual switches, one each for 660nm and 850nm, allow for full customization of the session. Highest irradiance on the market. Full 2 Year Warranty.

The MitoMEGA contains NO unnecessary / ancillary components so it still weighs in at only 25 pounds! 
Independent 3rd party testing shows the MitoMEGA can deliver an unprecedented 72,500 joules per 10 minute session. 
Specifications
Size
: 36" X 12" X 3"
LEDs: 300  x 5w
Wavelengths: Enhanced Spectral Energy Output™ : 50% Red (peak power 660nm) and 50% NIR (peak power 850nm)
Irradiance: >125mw/cm2 @ 6 inches
Switches:
Dual Switches, one for 660nm, one for 850nm allow for full customization of the session. 
Use Red only, NIR only or both at the same time! 
Beam Angle: 60 degrees
Weight: 25 lbs
Lifespan: 50,000+ hours
Power Consumption: 600 
Warranty: Full 2 year warranty
Compatible
 with all worldwide voltages.
Download the full user manual 
here.
60 Day Trial Period
60 Day Trial Period. No hassle returns. No hidden restocking fees.
Fast & Free Shipping
Free USA Shipping and Worldwide Shipping Options Available.
Financing Availability
Just select during checkout to see the options.
Full Warranty
Warranty coverage up to 3 years, but our lights are built to last forever.
Compare The Models
MitoMIN
Wavelength:
Red 660nm / NIR 850nm = 50/50
Irradiance at 6 Inches
(mW/cm2)
>85mW/cm2
Lens Beam Angle:
60 Degrees
Best Used For:
Targeted Treatment
MitoMID
Wavelength:
Red 660nm / NIR 850nm = 50/50
Irradiance at 6 Inches
(mW/cm2)
>100mW/cm2
Lens Beam Angle:
60 Degrees
Best Used For:
Half Body Treatment
MitoMAX
Wavelength:
Red 660nm / NIR 850nm = 50/50
Irradiance at 6 Inches
(mW/cm2)
>110mW/cm2
Lens Beam Angle:
60 Degrees
Best Used For:
Full Body Treatment
MitoMEGA
Wavelength:
Red 660nm / NIR 850nm = 50/50
Irradiance at 6 Inches
(mW/cm2)
>125mW/cm2
Lens Beam Angle:
60 Degrees
Best Used For:
Full Body Treatment
What's Included
1 X Power cord
1 X Goggles
1 X User Manual
1 X Steel cable
1 X Door hanging hook
1 X Adjustable height pulley system 
Customer Reviews
Write a Review
Ask a Question
04/24/2021
Jennifer L.

United States
Glad I made the upgrade
I love my red light. I started with a mito mini and loved it, but was looking to speed up the time for full body treatment, so I invested in the big boy MitoMega. I use it almost every day and get great relief from my lupus (+arthritis) symptoms. I am so glad I made the investment. The little one doesn't go to waste- I hooked it beneath the big boy and now have head to toe coverage.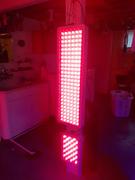 03/19/2021
Alan H.

United States
Mitored from Top to Bottom
The Mito Mega is powerful! Love it!! Really appreciate how wide it is so you can get a full treatment from one angle.
12/21/2020
Brianna P.

United States
The Warmth of Healing
Love my MitoMEGA red light! I use it while training to encourage cell regeneration as I move. It's a wonderful experience and experiment all at once!
11/13/2020
Jeannie D.

United States
So far so good!
I have been using my Mitomega everyday for about a month. I do 10 minutes on the front and 5 minutes on the back of my body. I have not noticed huge changes on skin yet. I think that takes time to promote collagen for the skin. I do notice I am sleeping better at night. I feel healthy allover. I am excited to see more positive changes over time. I will continue to us daily. It is also great for mood improvement as well. I am happy with my purchase so far.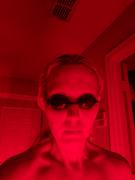 11/06/2020
JB

Canada
Excellent recovery
I have the Joovv original (2 ½ years) but wanted full body coverage (6 feet). I didn't want to spend $1400 on a new Joovv & discovered Mitored. Scott explained the pros & cons of the mitooriginal, mitomod & the mitopro. He suggested the Mitomega & how I could place it above the Joovv for full body coverage. My workout program is Athlean X XERO body weight program (which is difficult). Red-light therapy allows me to recover from muscle fatigue & soreness quicker. The difference between the Joovv 90 NIR 90 Red) vs the Mitomega (150 NIR 150 Red) is the Mitomega has 150 NIR, it has more *********** for my sore muscles, 3x the recovery speed & better coverage. I also own the MitoMIN, which I use when I am in my sauna. Mitored has excellent customer service. Shipped DHL (not UPS $$$ to Canada) I received it in 2 days & brokerage fee was $80. Thank you Scott,
10/06/2020
James C.

United States
Lizcxxxxx1405@gmail.com
SO FAR SO GOOD
08/26/2020
SAM F.

United States
Arthritis Pain
I have the 1500 Watt Mito Red Light. Before using the light my back and hip inflammation from arthritis was debilitating. Now I use the light daily as needed. My daily usage is around 1 ½ hours. My inflammation is mostly gone and the arthritis stiffness and aching is still present but no more shooting pain. This is the best thing I have stumbled on to for my condition.