---
---
---
Super charged, high powered targeted treatment with the MitoMIN 300w 60 LED red light therapy device. Best value targeted red light therapy panel available on the market. Compare to lower-powered similar sized models priced at $399. Whisper quiet fan keeps LEDs cool ensuring 50,000+ hour lifespan. Dual switches, one each for 660nm (Red) and 850nm (NIR), allow for full customization of the session. Use Red, NIR or both at the same time! Highest irradiance on the market. Full 2 Year Warranty.

Independent 3rd party testing shows the MitoMIN delivers an industry leading 14,503 joules per 10 minute session. 
Includes:
1 X Power cord
1 X Goggles
1 X User Manual
1 X Steel cable
1 X Door hanging hook
1 X Adjustable height pulley system 
Specifications
Size: 13" X 9" X 3"
LEDs: 60 x 5w
Wavelengths: Enhanced Spectral Energy Output™ : 50% Red (peak power 660nm) and 50% NIR (peak power 850nm)
Irradiance: >85mw/cm2 @ 6 inches
Switches: Dual switches, one each for 660nm (Red) and 850nm (NIR), allow for full customization of the session. Use Red only, NIR only or both at the same time! 
Beam Angle: 60 degrees
Weight: 6 lbs
Lifespan: 50,000+ hours
Power Consumption: 140 
Warranty: Full 2 year warranty
Compatible with all worldwide voltages. 
Download the full user manual 
here.
---
Customer Reviews
Write a Review
Ask a Question
03/21/2020
Jamie W.
Australia
03/12/2020
David H.
United States
Red Light Therapy Really Works
Two months ago I bought the Mito Mega and more recently I bought the Mito Mini for my girlfriend. My receding hairline has reversed! My skin is looking younger. Believe me, at 70 years old, I have received many compliments that I look much younger. Recently, my brother-in-law, who has diabetes and severe foot pain, put his feet under the light for 20 minutes. He said that the pain was gone after the 20 minutes. The relief lasted about a week and he came back for another 20 minutes with the same amazing results. He told me that of all the gadgets that I had come up with, the red light was the best and that he is planning to buy one. I and my girlfriend use the red light daily. The Mito Red lights are very high quality. I look forward to each treatment.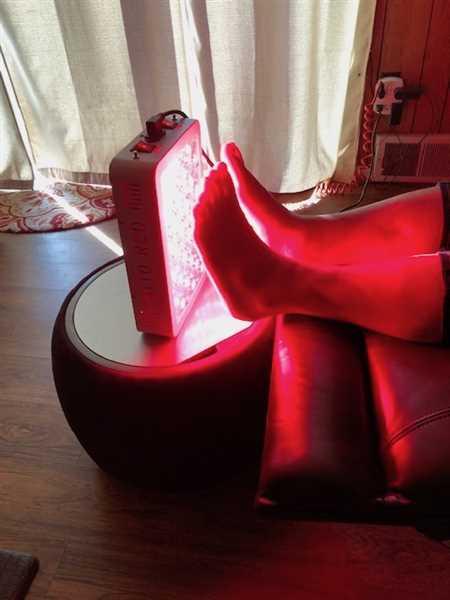 03/12/2020
Steve
United Kingdom
DOES THE JOB FASTER THAN THE REST
Very happy with my MitoMIN and more importantly the strength or therapeutic power of the light. Well made and definitely worth the money. It allows me to manage my health problem more efficiently and effectively than other lights that I bought previously.
03/11/2020
Joan S.
United States
Great product
Fast and advertised as listed
02/23/2020
Andrew H.
United States
Boost Your Testosterone
After reading Ben Greenfield's article "I Put a Giant Red Light on My B***s to Triple My Testosterone Levels" I decided to risk $250 and try it. It paid off tremendously. Although my testosterone did not triple, it did nearly double - from 382 to 683. My waning energy has returned! I liked the fact that MitoRed published a third party test of their device. This made me more comfortable with purchasing from a brand new company. I highly recommend MitoRed devices. You can purchase them with confidence. Although I use the MitoMIN daily, my wife has been using it more than that lately on her feet and shoulders where she has chronic pain. She says it gives her pain relief and she believes it is healing her injuries. We are now considering a full body panel.
02/26/2020
Mito Red Light
Andrew - Thanks so much for this review. As of today, you are the 2nd customer to report a (before and after blood test validated) significant increase in testosterone after using our devices for ~8 weeks. So while the studies in humans boosting testosterone with RLT are still limited, this feedback is quite encouraging! We wanted to add, that we followed up with you over email and that your protocol was to use the light 2x a day at about 6 inches for 10 minutes each session. We will be writing an another article on this topic in the coming days!
02/20/2020
Peter C.
United States
Great light, highly recommend
The MitoMIN is a great light, easy to use, well designed, and durable. The size sits easily on a table or desk (I use the light to treat the the back of my neck). While the light comes with the required accessories to hang from a door, the MitoMIN size makes it easy to move around and set on a table - a big plus in my opinion. I use the red light to help treat for neck tension and headache/migraine relief. I have used for 3 months now and have found (1) it reduces the severity of a migraine and (2) it reduces the longevity of the migraine. The other primary benefit I have noticed is that it significantly improves my sleep cycles. Highly recommend. Also has great customer service, helpful and super responsive.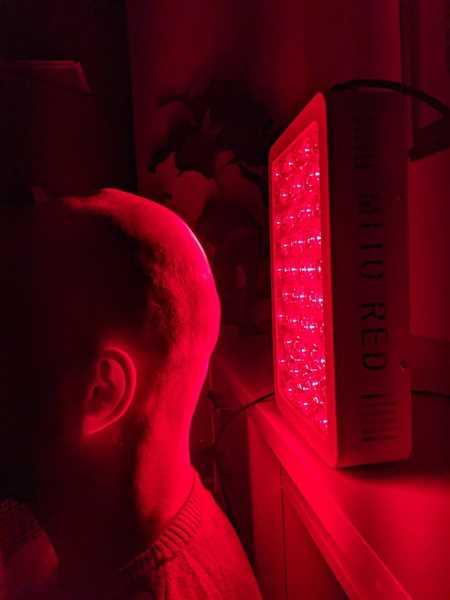 02/10/2020
Alan H.
United States
Full body with MitoMIN in 30 minutes or less
I was skeptical of all the claims about RLT.  I wanted to try something entry level and the MitoMIN was my ticket in. The results have been astonishing but I've had to get creative to fit in a full body exposure and make it to the office on time every morning. The video review attempts to show how I've made that work for me.