---
---
---
Super charged, high powered targeted treatment with the MitoMIN 300w 60 LED red light therapy device. Best value targeted red light therapy panel available on the market. Compare to lower-powered similar sized models priced at $399. Whisper quiet fan keeps LEDs cool ensuring 50,000+ hour lifespan. Dual switches, one each for 660nm (Red) and 850nm (NIR), allow for full customization of the session. Use Red, NIR or both at the same time! Highest irradiance on the market. Full 2 Year Warranty.

Independent 3rd party testing shows the MitoMIN delivers an industry leading 14,503 joules per 10 minute session. 
Want a table top stand? The MitoMOD 300 now comes standard with adjustable table top stand. 
Includes:
1 X Power cord
1 X Goggles
1 X User Manual
1 X Steel cable
1 X Door hanging hook
1 X Adjustable height pulley system 
Specifications
Size: 13" X 9" X 3"
LEDs: 60 x 5w
Wavelengths:
Enhanced Spectral Energy Output™ : 50% Red (peak power 660nm) and 50% NIR (peak power 850nm)
Irradiance: >85mw/cm2 @ 6 inches
Switches:
Dual switches, one each for 660nm (Red) and 850nm (NIR), allow for full customization of the session. Use Red only, NIR only or both at the same time! 
Beam Angle: 60 degrees
Weight: 6 lbs
Lifespan: 50,000+ hours
Power Consumption: 140 
Warranty: Full 2 year warranty
Compatible with all worldwide voltages. 
Download the full user manual 
here.
---
Customer Reviews
Write a Review
Ask a Question
04/07/2021
Angie H.

Canada
Top Biohack
This is the second device I've purchased. I have been using Mito RLT for over 12 months now and I can say this device is very effective for inflammation, pain management as well as skin health. I use it almost every night on my neck and face - all my sun spots are gone, my neck looks smother and my complexion is acne-free. I also used the device when I threw my back out and it minimized my recovery time significantly - I've injured this area before and it typically took 7-10 days for full mobility to return. With Mito RLT I was back to normal within 3 days! I've just purchased a second unit for my husband - he is also loving RLT and very excited to receive similar benefits with consistent use. All in all, this is a must-have biohacking tool for anyone that is interested in optimizing health and wellness.
04/06/2021
ellen c.

United States
Terrific Item!
I have been using my MitoMIN for about 4 weeks now. It has markedly improved the appearance of my acne scars (the reason I purchased in the first place) and definitely helps me sleep better! I do recommend faithfully using the device on problem areas for 15-20 minutes a day to really start seeing results. Working your way up to this level of course. I love my MitoMIN and may purchase a larger unit in the future. MitoMIN is a terrific item at a great price!
04/06/2021
Ann T.

United States
It works for muscle pain!
I purchased the Mito Min to help fight wrinkles. I've been using it on my face for a few minutes at a time each day for a month. It feels nice and has become sort of a daily meditation. I have not noticed a dramatic change in my wrinkles, but overall, my skin looks brighter, feels firmer, and has a nice glow to it. I do take collagen supplements, so it's probably a combination of those, the light, and my overall skincare routine. Whether or not it makes a difference for wrinkles, idk. I can tell you that it is AMAZING for muscle pain. I have a physically demanding job and use this (with the NIR) on my legs, back, and neck after my shifts and it provides immediate relief. Intense soreness goes away in half the time it normally would. Well worth it for that benefit alone. I am very happy with this purchase. It is very high quality, and easy to use. The pulley system allows me to quickly transition between treatment areas and it's easy to move to wherever I need. I do wish the power cord was on the other side, but other than that, it's perfect.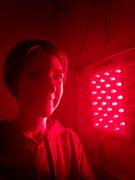 03/18/2021
Sherry W.

United States
Quick review of the MitoRed Light that I purchased
I was in search of red light therapy for several reasons, and I chose Mito because of the low EMF. I feel safer using the Mito because it doesn't have BlueTooth or a remote, which both bring high EMF. The Kinesiologist I see also purchased one because of the low EMF. I had real bad foot pain because of Plantar Fasciitis, and this has helped with it so much that I hardly have any foot pain after using it for 5 or 6months. It also has helped with back pain. It's a very impressive unit, sturdy, easy to handle and very quiet. I plan on purchasing a larger unit in the future as well. Awesome product, Thank you.
03/15/2021
Mark C.

United States
Feel more energy
I felt well, even when we were out of power I brought it to the office where we still had some so that I could keep using it. I ended up giving this unit as a gift but I'm looking at getting one of the larger ones.
03/13/2021
Sandi R.

United States
Huge difference in complexion already
I have suffered from acne and scaring since my teenage years. I've tried it all!!! Well now I have wrinkles to add to the acne and scarring. I heard about this product from the wellness mama blog and decided to give it a try. In just a week I've noticed my scars are fading and my huge acne pimples are smaller and I have about 3 compared to 6 or 8. In two weeks my eye wrinkles aren't as deep, my scars and red spots from new and old pimples are disappearing quicker. By three weeks my eye wrinkles are even less visible, I have two small zits on my forehead and the old zits are clearing up within a day. I have now started using this on other parts of my body to help with muscle soreness. I use it after I work out and it seems to ease stiffness and soreness in about 20 mins. This is literally the best product. Just sitting in front of it makes you feel so good. The red light is soothing and I really like adding it to my weekly meditation. Do yourself a favor and get one! You will not regret it! If I could I'd give it 10 stars!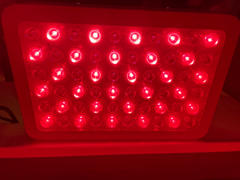 03/03/2021
Shaela-Rae J.

United States
High quality, very impressed!!!
I've been in The skincare industry for 15 years I have done a lot of research and I was first looking into led masks. Then this one was recommended to me. I am so glad I purchased it. The quality of the light far exceeds the masks that I was researching. I use it for my face and anti ageing purposes however I find that I am very excited to use it On my body as well. I also have a brain impairment that Can cause an overstimulation and stress on the body. I plan to use this to help as well. I am very impressed and look forward to continue to use it to see greater results. One thing that I noticed immediately waz my ability to sleep through the night increased my rem sleep is much deeper. My mother will be purchasing one as well. I wonder if there's a referral program. Thanks again.