---
---
---
Super charged, high powered targeted treatment with the MitoMIN 300w 60 LED red light therapy device. Best value targeted red light therapy panel available on the market. Compare to lower-powered similar sized models priced at $399. Whisper quiet fan keeps LEDs cool ensuring 50,000+ hour lifespan. Dual switches, one each for 660nm (Red) and 850nm (NIR), allow for full customization of the session. Use Red, NIR or both at the same time! Highest irradiance on the market. Full 2 Year Warranty.

Independent 3rd party testing shows the MitoMIN delivers an industry leading 14,503 joules per 10 minute session. 
Includes:
1 X Power cord
1 X Goggles
1 X User Manual
1 X Steel cable
1 X Door hanging hook
1 X Adjustable height pulley system 
Specifications
Size: 13" X 9" X 3"
LEDs: 60 x 5w
Wavelengths:
Enhanced Spectral Energy Output™ : 50% Red (peak power 660nm) and 50% NIR (peak power 850nm)
Irradiance: >85mw/cm2 @ 6 inches
Switches:
Dual switches, one each for 660nm (Red) and 850nm (NIR), allow for full customization of the session. Use Red only, NIR only or both at the same time! 
Beam Angle: 60 degrees
Weight: 6 lbs
Lifespan: 50,000+ hours
Power Consumption: 140 
Warranty: Full 2 year warranty
Compatible with all worldwide voltages. 
Download the full user manual 
here.
---
Customer Reviews
Write a Review
Ask a Question
02/25/2021
Jennifer L.

United States
The best money I have ever spent on my health
At age 42 I have been diagnosed with an Autoimmune disease. I was having severe morning stiffness, arm weakness, joint pain across my entire body, and significant back and neck muscle pain. I was barely functioning in the morning. After doing extensive research, I decided to try Red Light Therapy to ease my symptoms. I bought the Mito Mini because of the cost vs. what you get, plus the money back guarantee. Within 2 weeks (I ramped up use slowly) I was feeling a significant improvement in symptoms. Within 1 month I have complete reduction of morning stiffness, and 90% reduction in arthritis pain and back/neck muscle pain. This has been nothing short of a miracle for me. I don't even feel I need my arthritis drug anymore. The research states this provides temporary arthritis relief - this is my experience too. If I stop using the red light and miss more than a week, my symptoms start to come back. Consistency is key. I also use this for vanity / skin improvement for my face, neck and chest. Skip the pink tax with those over priced LED face masks! This unit treats the skin faster, and targets a wider area for less cost than those masks on the market. I have seen a great improvement in skin clarity and skin texture. Excellent bonus result for me. I used Alex Fergus, Ari Whitten's guide, the RedLightMan blog, and Brandon's/Mito guides to determine the dose and time to treat with the MitoMini. I highly recommend reading up on this technology so you can get max results. I have owned my unit for several months now and can't imagine not having this. My only regret is not buying a bigger unit so I can complete the light therapy sessions faster. I am seriously considering upgrading to a larger unit for faster treatment.

02/09/2021
Melissa B.

United States
Best investment ever
I've had pain for over 1 year. When my Pt recommended Red Light Therapy I was questioning how it would work. Now having had shoulder problems for two years I have to say Mito Red worked for me and was the only thing to bring relief! Being portable I've been able to use it in any room and also share the use with the athletes in my family who have aches & pains!
OG
02/07/2021
Ozzie G.

United States
OG
02/07/2021
Ozzie G.

United States
My Favorite Daily Routine
I have thoroughly enjoyed using my MITO red light therapy. It has given me energy, healing and less muscle aches. It's also have has worked wonders on my skin. I highly recommend it !
01/28/2021
Gary H.

United States
Mito red light
Great- I've used it daily since I received it. Great for delayed onset muscle soreness after workouts. My wife still hasn't embraced it yet though. She's a bit skeptical. I'm still working on her.
01/21/2021
Claudia R.

United States
Lifesaver!!
I, well we, LOVE our mito min, bought it initially for my 5 yo daughter who gets random leg pains, and now I can't go a day without it ... for my daughter we've tried everything under the sun for her pains but with this after 5 minutes of having the MitoMin on her legs, the pain just goes away!!! Seriously, we used to spend hours massaging her in anguish watching her cry, and now she's always asking for her "wed wight" (red light)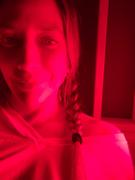 01/21/2021
Antony M.

New Zealand
Mito Red
I have been using the Mito Red mainly on my lower back before doing my back exercises I am sure it has helped. I have also used it on my left foot which was suffering from oedema. It has definitely helped. I have been using it on the Red light and the NIR settings Am very happy with the results.