---
---
---
Super charged, high powered targeted treatment with the MitoMID 500w 100 LED red light therapy device. Compare to a competitor's lower-powered and smaller (15") panel priced at $695.

Two whisper quiet fans keep LEDs cool ensuring 50,000 hour lifespan. Dual switches, one each for 660nm (Red) and 850nm (NIR), allow for full customization of the session. Use Red, NIR or both at the same time! Highest irradiance on the market. 2 Year Warranty.
Independent 3rd party testing shows the MitoMID can deliver an industry leading 24,167 joules per 10 minute session. 
Includes:
1 X Power cord
1 X Goggles
1 X User Manual
1 X Steel cable
1 X Door hanging hook
1 X Adjustable height pulley system 
Specifications
Size: 19" X 9" X 3"
LEDs: 100  x 5w
Wavelengths: Enhanced Spectral Energy Output™ : 50% Red (peak power 660nm) and 50% NIR (peak power 850nm)
Irradiance: >100mw/cm2 @ 6 inches
Switches:
Dual switches, one each for 660nm (Red) and 850nm (NIR), allow for full customization of the session. Use Red alone, NIR alone or both at the same time! 
Beam Angle: 60 degrees
Weight: 9 lbs
Lifespan: 50,000+ hours
Actual Power: 170
Warranty: Full 2 year warranty
Compatible with all worldwide voltages. 
Download the full user manual 
here.
---
Customer Reviews
Write a Review
Ask a Question
06/02/2020
Melinda W.
United States
Awesome device
I have been using the Mitomid for about a month a really love the energy it gives my body after using it. A must buy.
05/27/2020
Chantal F.
United States
Great!
I purchase this unit for my dad and its been Of really great benefit to him in lessening his pain I do highly recommend it!!
05/06/2020
Devyn V.
United States
Amazing product.
I have used my MitoMid everyday since it was delivered. And I have seen a change in my skin, I've had over 3in in hair growth and definitely feel the effects overall well being. Love love love my Mito. Friends come over to use it.
04/21/2020
Tiffany O.
United States
04/16/2020
Joan H.
United States
Awesome Mito Red Light Therapy
After researching different brand options of in home red light therapy, I am so happy to have chosen my Mitomid red light!! The size is very manageable and I can easily hang the light from a door, or set my Mitimid on a counter. Either position allows me specific and optimal coverage. I have been using the light therapy to reduce a scar on my face, and I have definitely seen a diminishing of that scar and it is less pronounced!
03/29/2020
Elad s.
United States
Best way to start my day
My daily ritual of bathing in front of my Mito Red Light has been such a gift. I have noticed a difference in my overall mood/skin/and ****** functions (like no longer getting a morning headache/migraine). I'm so happy to have something like this as part of my day to day life.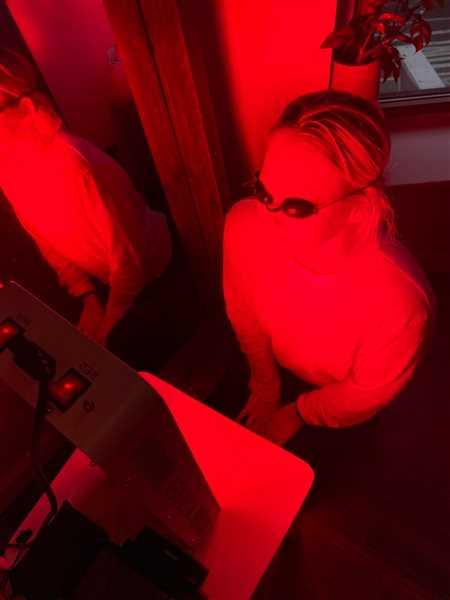 03/25/2020
Eric B.
Canada
My Mini and Mid Mitored
I find both my MitoMini and MitoMid very effective in isolation use and whole body use. The benefits are pretty obvious in terms of energy and mood in my initial use, aside from mitochondria activation, muscle recovery, blood flow enhancement and reduced inflammation. I recommend this MitoRed.