---
---
---
Super charged, high powered targeted treatment with the MitoMID 500w 100 LED red light therapy device. Compare to a competitor's lower-powered and smaller (15") panel priced at $695.

Two whisper quiet fans keep LEDs cool ensuring 50,000 hour lifespan. Dual switches, one each for 660nm (Red) and 850nm (NIR), allow for full customization of the session. Use Red, NIR or both at the same time! Highest irradiance on the market. 2 Year Warranty.
Independent 3rd party testing shows the MitoMID can deliver an industry leading 24,167 joules per 10 minute session. 
Includes:
1 X Power cord
1 X Goggles
1 X User Manual
1 X Steel cable
1 X Door hanging hook
1 X Adjustable height pulley system 
Specifications
Size: 19" X 9" X 3"
LEDs: 100  x 5w
Wavelengths: Enhanced Spectral Energy Output™ : 50% Red (peak power 660nm) and 50% NIR (peak power 850nm)
Irradiance: >100mw/cm2 @ 6 inches
Switches:
Dual switches, one each for 660nm (Red) and 850nm (NIR), allow for full customization of the session. Use Red alone, NIR alone or both at the same time! 
Beam Angle: 60 degrees
Weight: 9 lbs
Lifespan: 50,000+ hours
Actual Power: 170
Warranty: Full 2 year warranty
Compatible with all worldwide voltages. 
Download the full user manual 
here.
---
Customer Reviews
Write a Review
Ask a Question
11/25/2020
Lisa H.
Canada
IN LOVE
I purchased this item back in April after I had purchased the MitoMEGA. I wanted some thing to complete the full length red light experience over top of my massage table and I couldn't get enough. I've been consistently using this 2 to 3 times a week since April and have noticed many skin benefits especially having eczema. My lips are so soft and the fine lines have softened. But the most of all is how amazing it makes me feel! Going to be a life saver this winter.
11/04/2020
Alan H.
United States
Mitomid for full body light
I bought the MitoMid for hanging below the Mitomax and it works perfectly for head ro below knee coverage. I also have the Mitomin and sometimes use that together with the other two positioned on the floor. Great lights!!!
08/11/2020
Kelly W.
United States
Increasing immunity in Covid times
I bought this device in June with the hopes of helping a myriad of problems my husband and I wanted to combat. We are both very active but aren't getting any younger. For me it was to help fight inflammation in my knees and hips along with better sleep and mood enhancement. For my husband - faster muscle recovery and hair loss reversal. I knew it would increase our immune system but never dreamed it may also help us with the fight against Covid 19. We live on an island in the Caribbean and do NOT want to have to go to the hospital here.. we have used it religiously for 6 weeks now and have already noticed differences in what our faces look like and much better work out recovery time. We are loving our Mito Red light and are considering the portable one for travels.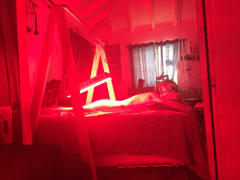 08/09/2020
Brian C.
Canada
New to red light
I am using the red light for my Hashimoto disease - thyroid. So many studies out of England showing amazing results -75% reduced medication of that 75%, 40% Stopped taking meds all together and have a healthy functioning thyroid. It's a 6 month journey and only done month 1 but as a bonus noticing change in my skin. Also use on shoulder -repetitive strain and pain level reduced so much.
08/09/2020
Lisa C.
United States
Amazing Health and Skin Benefits
I bought a Mito mini and after 3-4 weeks I ordered the Mid size to get a full body coverage. I wish I had waited to get the unit that clicks together for a better coverage without having to move the units around. I have not hung them - use them on the floor placed on table top depending on the area I am targeting. The main reasons I got this were for : 1) Reduce the fatigue I am experiencing (thank you Covid) 2) Thyroid/Parathyroid support 3) stop hair loss 4) lower inflammation 5) help osteoarthritis 6) help dry skin 7) boost immune system 8) increased collagen in skin - lessen wrinkles and sun damage 9) muscle recovery after working out so far I can say all have improved (not sure with the thyroid yet) but I have less hair loss, less fatigue, less arthritis pain, better sleep, softer skin, more energy. I think it will take more time for the thyroid and skin repair. I do 10-20 min 5-6 days a week , on the mornings I wake up so exhausted (I am an essential health worker) I do this and have the energy to get through the day not powered by caffeine. I will also do a mini session before dinner if I am totally dragging. This has been one of my favorite things since Covid hit and I will keep using it for years to come! I have recommended this treatment to several friends and clients who have ordered units and are also getting relief.
08/08/2020
Kristen T.
United States
MitoMid Is Awesome!
my experience has been awesome so far! I use this for myself for skin and relaxation- but I primarily bought it for my dogs! We use it to promote relaxation and longevity! They love it and it instantly relaxes them at night before bed! I have noticed my female German Shepherd has been less anxious after using it for 3 weeks!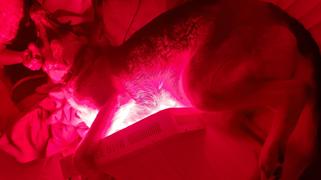 07/24/2020
Maureen B.
United States
Recent purchase
This item helped my back pain