MitoMAX
Product Description

Super charged, high powered full body treatment with the MitoMAX 1000w 200 LED red light therapy device. Best full body red light therapy panel available on the market. Compare to lower-powered 36 inch panels that can run $1195 or more! Four whisper quiet fans keep LEDs cool ensuring 50,000 hour lifespan. Dual switches, one each for 660nm (Red) and 850nm (NIR), allow for full customization of the session. Use Red, NIR or both at the same time! Highest irradiance on the market. 2 Year Warranty.

Independent 3rd party testing shows the MitoMAX delivers an industry leading 48,344 joules per 10 minute session. 

Includes:
1 X Power cord
1 X Goggles
1 X User Manual
1 X Steel cable
1 X Door hanging hook
1 X Adjustable height pulley system


Specifications

Size: 36" X 8.25" X 2.75"

LEDs: 200  x 5w

Wavelengths: 50% 660nm (red), 50% 850nm (near infrared)

Irradiance: >100mw/cm2 @ 6 inches

Switches: Dual switches, one each for 660nm (Red) and 850nm (NIR), allow for full customization of the session. Use Red, NIR or both at the same time! 

Lifespan: 50,000+ hours

Beam Angle: 60 degrees

Weight: 20 lbs

Power Consumption: 360 

Warranty: Full 2 year warranty

Compatible with all worldwide voltages. 

Download the full user manual here.
Customer Reviews
08/20/2019
alan s.
United States
I love my Mito Max!
I received this unit promptly. It's easy to use. I've seen energy and skin benefits in the 2 weeks I've been using this. I do 5 minutes front and 5 minutes back -- once a day. I have high hopes for arthritis inflammation, mental clarity, increasing testosterone, and massively strengthening my mitochondria. I have very high hopes!! :)
05/26/2019
Marcia H.
United States
Miraculous results
I love my Mito Red Max! I previously bought a joov Mini which I Also love and thought to slowly build to a Max which would be over $3,000. When I saw the ad for the Mito red and the the fact it's stronger and a quarter of the cost of the joov max, I was both intrigued and skeptical . I spoke at length with the owner and developer Scott . He answered all Of my questions and imparted that he wanted to create a system that was affordable. Granted, you don't get all the bells and whistles of expensive marketing built in timer and such .... but it also makes this device weigh less which I like. decided to take a chance ! This device is so powerful that standing at 12 inches away it covers my entire body head to toe ( I am 4'10".... if you are taller you might only be able to treat knees a to top Of head as Scott told me he does;) This saves me so much time as I was spending 2 hours with the joov mini trying to Treat my whole body . Now I can spend all the time I save on exercising . The Mito red has definitely Increased my muscle strength and recovery time But the best news for me is not only is my lower back pain gone, but my osteopath told me my Scoliosis is actually getting better! This is not supposed to happen- it's supposed to get worse ! Hence I say miraculous results. I can not recommend this product highly enough. Please do read all the books and on line research available on red and near infrared therapy. Educate yourself. Scott is making this affordable for us by not buying the names of famous people and famous doctors like other companies do to endorse his product. This is therapy for everyone , not just the Wealthy !
09/19/2019
Shannon B.
United States
Love It!
Although I loved my MitoMax from the start, I waited to give a review until I had seen some results. I purchased the light mainly to see if it would help heal my brain from years of limbic system impairment/being stuck in fight or flight mode. Oddly enough, during other methods of healing therapy, I would instinctively hold my head near a soothing pink lamp I own, feeling as if I needed to shine a light into my brain. This is before I had ever heard of red light therapy! While I have not noticed any improvement in my brain just yet, I immediately loved the light. I find it very relaxing, and I find very few things relaxing! I wanted to have more reason than that to love it, but my husband said that alone is enough reason to keep the light and to just enjoy it. Last week, I went back to work after a long summer off. I own a dance studio, and the first week back is usually brutal. We teachers always end up complaining that our entire bodies hurt as our muscles get reintroduced to dancing. This year, I had NO muscle soreness! NONE! My teachers, who are all at least 22 years younger than I am, have complained about the usual soreness, but not me! I have run up and down our studio steps a hundred times and danced full out with the kids without issue. HERE is my proof that it is working! Now I can enjoy my daily light therapy even more. ♥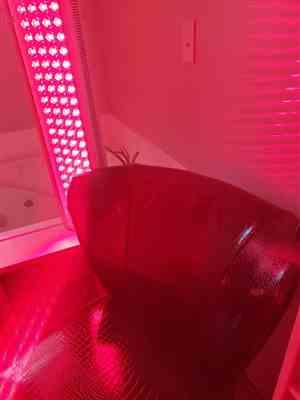 09/17/2019
Matt H.
United States
09/15/2019
Jeanne B.
United States
Mito Red Max Review
This is a powerful red light that was easy for my husband to mount on our bedroom wall, adding 4 brackets. We both enjoy using it each morning, and it seems to have increased our stamina. I love the fact that it covers my entire body and only takes minutes to use.