MitoMOD Series


Powerful, Affordable, Effective & Modular red light therapy devices.
Independently Tested and Validated
The MitoMOD series uses the same 5W LEDs and provides the industry leading irradiance you've come to expect from Mito Red. We supply independent diagnostic data for full transparency so you can rest assured you are receiving exceptional value for your money.
Complete Flexibility
Use Red (660nm) alone, Near Infrared (850nm) alone, or both at the same time!
Modular Construction
Physically and electronically connect your panels together. The MitoMOD series modular design allows for full customization and multiple configurations to support any in-home or commercial application. Build as you go!

Cutting Edge Design
Enhanced Spectral Energy Output (ESPEO), flicker-free LEDs and low EMF output ensure optimal efficacy of your red light therapy sessions.
Spice up any decor with this unique and sleek black housing color!
$299.00
The Mito Red Light Stand allows for complete flexibility and mobility and is ideal for any in-home or commercial application. 

The Mito Red Light Stand is compatible with either the MitoMOD or MitoPRO series. 
The Mito Red Light Stand has a total load capacity of 100 pounds. 
Assembly videos and instructions are located HERE.
WHAT'S INCLUDED
1 - Power Cable
2 - Linking Power Cable
3 - Detailed User Manual
4 - Over-the-door hook
5 - Steel Hanging Cables
6 - Adjustable Pulley System
7 - Protective Goggles
8 - Tabletop Stand (MitoMOD 300)


Fast Free Shipping
Free USA Shipping and Worldwide Shipping Options Available

60 Day Trial Period
No hassle returns. No hidden restocking fees.


Phone
Support
Monday-Friday 9am-5pm MST
1-480-597-4649


Financing Available
Just select AFFIRM during checkout to see the options.

Full
Warranty
Warranty coverage up to 3 years, but our lights are built to last forever.

Superior
Design

High Power, Low EMF and Flicker Free!


Customer Reviews
Write a Review
Ask a Question
04/09/2021
Matthew L.

Canada
It worked where decades of other solutions failed
I have had a clicking jaw for decades that other than a risky surgery, there has been no other relief for. I just dealt with it. Then I read about red light therapy and how the near infrared can ********* into the body as much as centimetres depending on the area. I figured it would be worth a try. After 3 weeks of use, my jaw has stopped clicking and has never felt better. I am very impressed and happy with my MitoMod 300 that has a great little stand that you can use to adjust it in all sorts of ways. RTL is not just about beauty, but also health and body repair. I am an asthmatic and am experimenting with my lungs now and am finding some benefits here too. Wow. Why is RTL not being talking about more?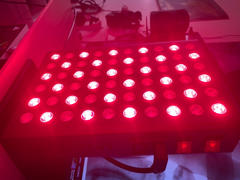 03/30/2021
Shellye C.

United States
Worth the Investment
I'm 51 with severe arthritis in my lower back. When I would get up in the morning there would be days I felt 90. A friend encouraged me to try red light and specifically Mito. I bought a small mod and started using it. Now I have a 4 foot and I don't think I can live without it! No more aches and pains. It has given me back my life. All natural, incredibly relaxing and helps me carve out time for me.
03/26/2021
Marie L.

United States
Amazing result
I bought the mito red series , mito mega for my house in Canada and mito mid and mito min for My place in USA! I love the results, after only 3 month , the texture of my skin is so soft, I noticed less wrinkle around my mouth and my eyes. I use it 5 times a week for about 7 minutes and now I try to treat my legs (bad circulation) and my shoulder pain. The team at Mito are so nice and helpful! I had a problem with the first order mito mid and they sent me right away a return label and a new device! Highly recommended
03/24/2021
Laurie R.

United States
Excellent Quality
My husband and purchased this for a variety of reasons. I was interested in benefits of the skin and a nagging shoulder pain that I've had for 8 plus months. My husband who is 70 wanted this for recovery after tennis and working out...and he plays alot! We have both felt the benefits are slowly showing up with consistent use. My shoulder has greatly improved and my husbands joint pain seems to be in check. We have only used this for roughly a month so I am hope to see improvements in my skin over time.
03/17/2021
Rosemary M.

Australia
Review of Mito Pro 900 after 3 weeks regular use
It's very sturdy and easy to operate. I have easily incorporated it into my routine with 10 minutes twice daily. It's easier to incorporate into my routine than I had anticipated because I love using it! It's very relaxing to sit in front of it twice daily...not sure if there's a scientific basis to how relaxing I find it. It emits slight heat (not too much) which feels lovely to me, and adds to how relaxing it is. In regards to benefits, I have been sleeping very well and feel well rested. This is subjective as I have no way of measuring my sleep, but I would love to attribute it to the machine. I look forward to seeing what benefits I get with longer term regular use, specifically to help me with chronic fatigue and collagen production in the skin. This device is a good price, I did research how it compares to others on the market before I purchased. I am very happy with my choice.
03/12/2021
Michelle S.

United States
I didn't believe it would work, but it did!
Bought this for my boyfriend and his mother. The main reason is that he gets really bad eczama on his hands, his mother has knee issues. She is getting a partial knee replacement soon, His hands look and FEEL so much better. Flare ups are less occuring as well. His mother also shared she experienced less pain in her knee after one use, the day after she felt no pain. Of course, this therapy only works if you discipline yourself to use this everyday! The lgiht is extremely bright, the goggles helped. This came with a stand attachment which was helpful for tilting! Exceeded my expectations.
03/02/2021
William V.

United States
So far so good
Use it every day and results are good
Entered access token key is invalid, please check it again.