MitoPRO Series
The most advanced red light therapy devices ever Created.
Scientifically Driven
Available only from Mito Red, the patent-pending MitoPRO series incorporates the four most bio-active wavelengths 630nm / 660nm (Red) and 830nm / 850nm (Near Infrared). This unique configuration drives enhanced efficacy by delivering increased light energy at the parts of the spectra which maximize cytochrome c oxidase activation.
Complete Flexibility
Use Red (630nm / 660nm) alone, Near Infrared (830nm / 850nm) alone, or both at the same time!
Modular Design
Physically and electronically connect your panels together. The MitoPRO series modular design allows for full customization and multiple configurations to support any in-home or commercial application. Build as you go!

Integrated Digital Control Panel
Integrated digital control panel with built in timer allows you to control your entire light array with the push of a single button!
$299.00
The Mito Red Light Stand allows for complete flexibility and mobility and is ideal for any in-home or commercial application. 

The Mito Red Light Stand is compatible with either the MitoMOD or MitoPRO series. 
The Mito Red Light Stand has a total load capacity of 100 pounds. 
Assembly videos and instructions are located HERE.
WHAT'S INCLUDED
1 - Power Cable
2 - Linking Power Cable
3 - Detailed User Manual
4 - Over-the-door hook
5 - Steel Hanging Cables
6 - Adjustable Pulley System
7 - Protective Goggles
Fast Free Shipping
Free USA Shipping and Worldwide Shipping Options Available

60 Day Trial Period
No hassle returns. No hidden restocking fees.


Phone
Support
Monday-Friday 9am-5pm MST
1-480-597-4649


Financing Available
Just select AFFIRM during checkout to see the options.

Full
Warranty
Warranty coverage up to 3 years, but our lights are built to last forever.

Superior
Design

High Power, Low EMF and Flicker Free!


Customer Reviews
Write a Review
Ask a Question
03/31/2021
mclaughlin

United States
Cancelled my Derm Appt
I discovered I had something on my lower lip in Nov/Dec. It was very tiny about the size of a chia seed and purple in colour. I gradually became the size of the picture I have attached. I called the Dermatologist at the beginning of March and discussed it and booked an appt for the end of May. She indicated it was most likely something known as Venus Lake. I did some research and found that I didn't quite fit with most people who have them but like many things, there are exceptions... After looking at some internet pics, I was now one of the exceptions. Nonetheless, I received my Mito 750 at the beginning of Feb. I had been using it for several weeks starting with 2 to 3 min for the first 2 weeks as I was tentative. I increased each week adding 2 additional min morning and night most days. After the 4th week, I could see my skin looking more even-toned and brighter. So now I am excited! This of course gave me the confidence to see if Mito Pro could help with this lip thing and I did read about others having great results with cold sores. I wasn't expecting anything because I had to pull my lip down to expose the VL to the light. I was thinking surely I would need to be closer than 6/12 inches away for it to work. Nevertheless, after only two five-minute treatments, lo and behold it's gone! Derm appt cancelled and no risk to me of scaring. I hope this will be helpful to someone. Sorry, I don't have my own picture but I was honestly skeptical of any results and not in such a short time. I did find the pic(hopefully I can attach it) the one I referenced which was almost exactly like mine with the exception that mine was a little more inside my lip. I knew I would be reaping many benefits with Mito but this one definitely caught me by surprise. Amazing product! I look forward to adding another unit and sharing more of my experiences... Cheers!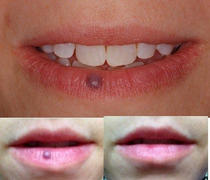 03/30/2021
Roshell G.

United States
Solving multiple issues for multiple family members!
My daughter suffers from fibromyalgia and depression/anxiety. After 1st use and thereafter she experiences a clearer, more peaceful & calm mind. Still waiting to see if pain is better, as that can take more time. My complexion is evening out from sun spots and pain from very bad plantar fasciitis has greatly improved. Husband also has psoriasis & light immediately calms inflammation. So I'm ecstatic that we are seeing so many benefits especially when nothing has worked for some of these conditions! Would definitely recommend if you have issues that RLT has been studied and suspected to help!
03/19/2021
daniel c.

United Kingdom
So far so good
I have been using the Mito 750 for around 3 weeks now, for about 5 out of 7 days a week for 3 mins on my head, back and front total 9mins, sometimes 12mins. I can say i have noticed a rise in *** drive, skin quality, and sleep. I use the device in the morning directly after showering. I had a sore elbow the other day and decided to lay the red light panel directly on the elbow there was no pain the next day! So far i am very pleased with the Mito red light, i did do plenty of reading into red light therapy and decided Mito to be the best in terms of power, price and quality (wavelengths). The order was shipped and arrived to the united kingdom within days (very impressed). The device was well packaged and seems to be very well made. All in all i am happy i made the choice to buy a Mito red light
03/17/2021
Rebecca H.

United States
Helped my psoriasis
It seemed to help my psoriasis! My skin was rough and discolored and burning.
03/14/2021
Barbara A.

United States
Good results
I have had good results with a couple things I can actually see and feel and therefore know! A bad sciatic pain in my right leg, butt disappeared after a few uses, several lip cold sore I could feel did not appear, they went away instead of breaking out which was huge for me!! Some of my back pain which I have had for over 50 years from a bad car accident and fused back has lessened, and my botched knee replacement is better and not as painful! And I think my face skin seems healthier! So I will continue to try and use 4 times a week for pain and arthritis and skin help! Barbara
03/10/2021
Susan F.

United States
I love the quality of my MitoPro Series light! I use it on my face, neck and hands (for aging-I'm in my 60s) I did a lot of research and it payed off. It is wonderful to have such a high quality and well made product. I have been using it on my face for about two weeks and will give feedback in a month on the results. I would not choose any other company. You found people that care and stand behind their product!