---
---
---
Introducing the new Mito Mobile!
The same powerful red and near infrared LEDs you can take with you on the go!
Portable red light therapy in the palm of your hand, the Mito Mobile conveniently slips into your backpack, purse or carry-on luggage.
Wireless and rechargeable, take it on a plane or on the road. 
What's included in the box

• 1x Mito Mobile Device
• 1x USB Charger (compatible worldwide) 
• 1x Type A Plug Charger 
• 1x Carry Case
• 1x User Manual

Specifications:

Beam Angle: 60 Degrees
Battery Capacity: 10,000 mA

Battery Life - 5,000 hours

LEDs: 12 X 5W
Wavelengths: 660nm & 850nm
Irradiance: >100mW/cm2 at surface of the LEDs
Power Input: 100-264V
Charge Power Output: 5V, 3A
Weight: 1.3 pounds
Dimensions: 6 inches X 4 inches X 1.5 inches
1 Year Warranty
Runs 2.5-3 hours on a single charge
PLEASE NOTE: The Mito Mobile and Mito Mobile Flex are excellent options for on-the-go red light therapy. However for first time users of red light therapy seeking a targeted device with maximum power and efficacy, we would recommend starting with one of our smaller plug-in devices such as the MitoMIN, MitoMOD 300 or MitoPRO 300.
---
Customer Reviews
Write a Review
Ask a Question
04/06/2021
Kim L.

United States
Lighten-up my day with MitoRed Light
I have read about red light therapy and wanting to try it myself before recommending to my patients, friends and family members. First, I bought MitoMid, later I added Mito MAX, and then Mito MINis (for traveling). MitoRed lights have been my daily ritual, I set them up that both my front and back can benefit from the light (I use them for 20min. a day). I feel great, full of energy, skin texture and muscle tone have improved, deeper sleep and waking up alert, specially REM sleep. Most importantly, I contribute to my clear mind, and deeper meditative state to daily use of Mitored light. I have introduced MitoRed Light to my patients ( US and overseas). The results have been amazing. One particular patient from Saudi Arabia has reported of great improvement her health's condition inducing : Lupus, diabetes, and blood pressure. Mitored light is the most cost effective for home use. Highly recommend!
04/05/2021
Melinda M.

United States
little ******
love it, easy to use, Very nice
03/22/2021
Reava D.

United States
Mobile Mito Light
I've had the larger version 14X20" That I enjoy using for quick treatments to half of my body. I wanted a small version I could travel with but I've discovered I use it for more than my big one. It's because I have to stand anywhere from 5 to 20 minutes turning while using my larger size one and with the small one I can just hold it while I'm sitting and directed to specific areas. Currently I've been working on cellulite and seeing a little difference. I've only had it for a couple of weeks weeks so I'm hoping for better results in a couple of months.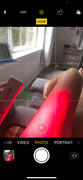 03/04/2021
Sharon B.

United States
Easy to Use
I wanted something portable and everything I read told me Mito products are among the most effective (possibly the top for home use). I became interested in red light therapy because I wanted to see some improvement in my aging facial skin. My research soon led me to want more flexibility than any of the "face only" devices. As I have learned more, I am now equally interested in other possible benefits, like better sleep and injury repair. I've only been using for less than a month and I can't rave about miracle benefits, but I find using the device relaxing and comforting. I feel some tightening of the skin. The device itself is obviously well-made and solid. I have already taken it with me on a short trip. Mito gives really excellent support to customers also. I have appreciated that as I got to know my new machine. A great product and a great company.
03/01/2021
Rhonda D.

United States
Love the Little Mito Mobile Red Lights!
I bought several of these as gifts for family members and all are used daily. I use mine every day for my hands and love it. The only issue for me (with arthritic fingers) was comfortably holding onto it. That was easily solved by another user's idea of attaching a phone/tablet hook & loop hand strap to the back of the device. We highly recommend the Mito Mobile!
02/23/2021
Katherine L.

United States
First time user
Love it for all the joint healing I experience with it daily. Range of motion is better and clearer skin as well.