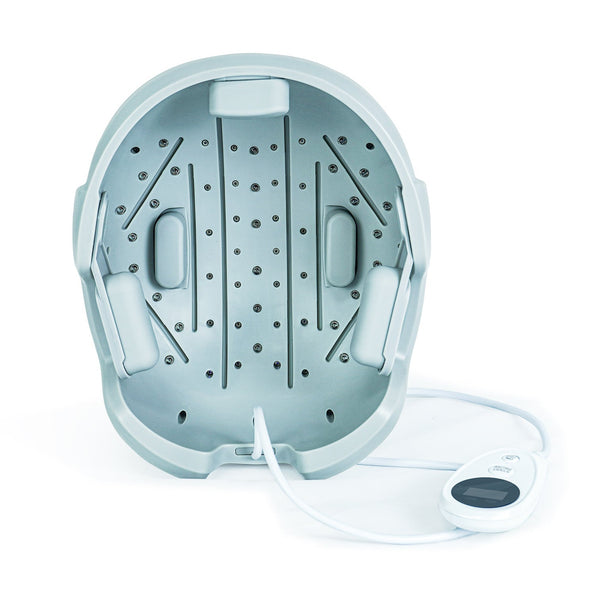 Mito Red Light Therapy Laser/LED Helmet (Hair)
Sale!
$495.00
$695.00 USD
Introducing the Mito Red Light Therapy Helmet!
The Mito Red Light Therapy Helmet is a powerful and effective tool for hair regrowth and preventing unwanted hair loss in both men and women. Modern, comfortable, and easy to use, the helmet targets wide coverage of the scalp with 56 lasers and LEDs (30 LED diodes and 26 laser diodes).
Recommended to use every other day for 25 minutes. 
Click for user manual
Please Note: The drivers of hair loss / thinning can be different in men and women are typically multi-factorial. As such we recommend a multi-pronged approach. For a detailed discussion including various tips please see our comprehensive article featured below.
Related Article: Everything you Need to Know About Red Light Therapy and Hair Growth.
HERE'S WHY THE MITO RED HELMET IS YOUR GO-TO CHOICE FOR RELIABLE RED LIGHT THERAPY:
The Mito Red Helmet emits a precise wavelength of red light that penetrates deep into the scalp, promoting blood circulation and delivering nourishment to dormant hair follicles. Experience the revitalizing effects and watch your hair flourish.
Scientifically proven, red light therapy stimulates cellular activity and energizes hair follicles. The Mito Red Helmet's targeted treatment revitalizes your scalp, encouraging the growth of stronger, healthier hair that you can proudly show off.
Designed for hassle-free use, the Mito Red Helmet is lightweight and adjustable to fit most head sizes comfortably. Simply put it on and let the therapeutic red light work its magic while you relax, read a book, or catch up on your favorite TV series.
Engineered with precision, the Mito Red Helmet incorporates the latest advancements in red light technology. Backed by extensive research and built to last, this high-quality device offers salon-like results from the comfort of your own home.
The Mito Red Helmet is a non-invasive and chemical-free alternative to traditional hair loss treatments. Rest assured that you can achieve incredible results without any harmful side effects. It's time to nourish your scalp and bring life back to your hair.
Besides its remarkable hair growth benefits, the Mito Red Helmet can also improve scalp health, reduce inflammation, and enhance overall well-being. With regular use, you'll notice a revitalized scalp and a boost in your hair's natural radiance.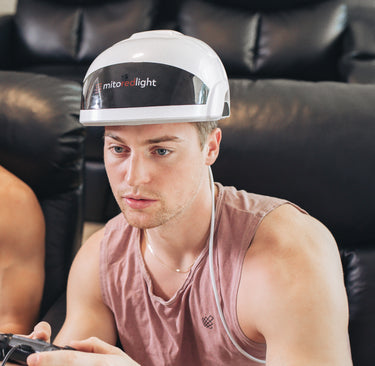 Mito Red Light LED Laser Helmet
OPTIMIZE YOUR HAIR GROWTH
Easy and comfortable to use at home, while working, watching TV, reading a book, on the PC or just relaxing. All you need is one 25 minute session every other day to stimulate thicker hair and add density and fullness to your hair.
The Mito Red Light Helmet contains both high powered lasers and LEDs to ensure optimal penetration to the scalp, while also providing maximum coverage and excellent value.
The Mito Red Light Helmet uses clinically proven wavelengths to promote hair growth. The helmet delivers as much as 40mW/cm2 of irradiance at the surface and provides full coverage of your entire head for optimal hair health and regrowth
Total Lasers: 26
Total LEDs: 30
Laser Wavelength: 650-660nm
LED Wavelength: 640-660nm
Laser Power Classification: Laser Class 3R <5mW Max Ouptut
Lifespan: 50,000 Hours
Timer: 25 minutes
Weight: 1.5 pounds
FAQ
A: The Mito Red Helmet is a state-of-the-art red light therapy device designed to combat hair loss and promote hair regrowth. It utilizes advanced red light technology to stimulate hair follicles and enhance overall scalp health.
A: Red light therapy penetrates deep into the scalp, stimulating cellular activity and promoting blood circulation. This process energizes hair follicles, leading to the potential regeneration of stronger, healthier hair.
A: Yes, red light therapy is a safe and non-invasive alternative for addressing hair loss concerns. It does not involve any harmful side effects or chemicals, making it a reliable choice for hair rejuvenation.
A: The Mito Red Helmet is designed to be convenient and user-friendly. It is adjustable to fit most head sizes comfortably, allowing anyone to experience the benefits of red light therapy in the comfort of their own home.
A: For optimal results, we recommend using the Mito Red Helmet for a recommended session duration of 20-30 minutes per session, 2-3 times per week. Consistency is key to achieving the best outcomes.
A: In addition to addressing hair loss, the Mito Red Helmet can also improve scalp health, reduce inflammation, and enhance overall well-being. Regular use may result in a revitalized scalp and increased hair radiance.
A: The Mito Red Helmet can be used as a standalone treatment or in conjunction with other hair loss solutions. However, it's always advisable to consult with a healthcare professional or specialist when combining different therapies.
A: Yes, the Mito Red Helmet is designed for both men and women who are seeking an effective and convenient solution for hair loss. It addresses the unique needs of different individuals experiencing hair thinning or hair loss.
A: Individual results may vary, but many users report seeing noticeable improvements within a few weeks to a few months of regular use. Consistency and adherence to the recommended usage guidelines are crucial for optimal outcomes.
A: Yes, the Mito Red Helmet comes with a warranty to ensure your satisfaction. Please refer to our product page or reach out to our customer support for specific details regarding warranties and guarantees.
***Remember, if you have any additional questions or need further assistance, our customer support team is always ready to help you make the most of your Mito Red Helmet experience.