Mito Mobile FLEX
Sale!
$239.00
$369.00 USD
The Mito Mobile FLEX is unique in that it allows you to use:

1) All 12 LEDs as NIR or 2) All 12 LEDs as Red or 3) 50/50 split Red / NIR
It's like having THREE light therapy devices in ONE!
The FLEX is also ~1 inch narrower than our Mito Mobile, making it easier to hold for those with smaller hands. 
Specifications:
Beam Angle: 30 Degrees
Battery Capacity: 10,000 mA

Battery Life - 5,000 hours

LEDs: 12 (double chip)
Wavelengths: 660nm (Red) & 850nm (NIR)
Irradiance: >100mW/cm2 at 3 inches
Power Input: 100-264V
Charge Power Output: 5V, 3A
Weight: 1.5 pounds
Dimensions: 6 inches X 3 inches X 1 inches
1 Year Warranty
Runs 2.5-3 hours on a single charge
 PLEASE NOTE: The Mito Mobile and Mito Mobile Flex are excellent options for on-the-go red light therapy. However for first time users of red light therapy seeking a targeted device with maximum power and efficacy, we would recommend starting with one of our smaller plug-in devices such as the MitoMIN, MitoMOD 300 or MitoPRO 300.
Mito Red Original Series, MitoMOD Series and MitoPRO Series are FDA registered Class II devices.
Free USA Shipping and Worldwide Shipping Options Available.
60 Day Trial Period. No hassle returns. No hidden restocking fees.
Just select during checkout to see the options.
Warranty coverage up to 3 years, but our lights are built to last forever.
High Power, Low EMF and Flicker Free!
Fits in the Palm of Your Hand
Gives you full control over your light therapy experience.
Portable and Powerful
Weighing less than 1.5 pounds you can take your Mobile or Mobile Flex anywhere! Both include a travel case, and you can take them anywhere by easily slipping them into a bag or suitcase.
Charge and Go
With up to 3 hours of wireless use you can use your Mobile device anytime, anywhere - once charged no electrical outlet is required.
Fantastic for Spot Treatments
A knee, elbow, hand, ankle. Have an achy part of the body after training? The Mobile can give you the targeted and immediate RLT you desire. 
Mito Mobile Flex
What's Included
1 x Mito Mobile Flex Device

1 x USB Charger (compatible worldwide) 

1 x Goggles
 
1 x Hard Cover Carry Case

1 x User Manual
Customer Reviews
Write a Review
Ask a Question
12/30/2021
Deborah W.

United States
Love the Mito Mobile Flex
I have an expensive full body light. Bought the Mobile Flex for long travel for back pain. While I knew I would get results I didn't expect miracles from a small rechargeable light. But I could go on and on about the things this light has done for my family. Back pain; neck pain; knee pain; foot pain; arthritic pain; nerve pain; head pain; all gone. Two inch incision same day stitches removed after 10 minutes looked healed except on both ends. My dads curly que finger size twisted extreme varicose veins in his legs behind knee after 4 10 minute treatments have shrunk a lot, the pain in his leg is gone and his calf that was hard is soft. He has an aortic aneurysm measured at 4 in his abdomen you can see bulging. It is obvious it's shrinking. He can't wait for his next test to see if it's measurably getting smaller. My dads eye sight has improved since shining light on his shoulder which has also reduced the size of an arthritic knot and increased his shoulders range of motion. My dad has COPD and has only used it a couple minutes twice on his chest and felt he could breathe better. Tested his oxygen level and it was 95 while usually in the mid 80s. His ankle/foot had an injury needing amputation but he refused and wears a brace with constant pain. It's reduced the pain so much he's shopping for western boots and thinking about dancing. My dad has advanced prostate cancer, COPD, stents in his arteries, 2 aneurysms and other health problems from exposure to Agent Orange, 100% disabled VET. I gave him the light 9 days ago. He already feels it's life changing and he's so full of energy he's no longer napping, sleeping 6-7 hours without getting up and down waking up full of energy. He is also on steroid type drugs for his COPD which are sun sensitive. We worried he could not use light therapy due to that. No bad reactions and why we started him with the small light. There is more but I will just include one more. My aunts old chihuahua has a heart condition and passes out he couldn't do much anymore. After 10 minutes of light therapy he's full of energy playing like a puppy without passing out. He now comes over every couple days for his treatment while he's waiting for his own light. The possibilities of red light therapy seem endless and the Mito Mobile Flex is fantastic everyone should have one it's priceless.
12/28/2021
Gerrie P.

United States
I love my Mito red light so much that I didn't want to be without it on vacation or trips, so I bought the Mito flex. I love it, I take it with me on every trip. It packs nicely in its own case, really happy I won't ever be without my red light
11/29/2021
Miranda L.

United States
So great for travel
I purchased this device as a first foray into RLT and I love it. I've been using it on my face to heal some acne spots and it seems to be helping really well. It's a bit small to try other areas of my body but I am seeing a difference and am looking forward to trying larger panels. I like to use it at night because it relaxes me and helps me sleep. I recommend giving it a try if you're not sure. Yes it's small but easy to use, great for travel, and wonderful for targeted treatment!
11/25/2021
Connie F.

United States
Mito mobile flex
Great little travel light! I use my mito pro large panel light on the horizontal stand. Easy to setup and easy to use. I don't like to miss my red light sessions so I got the mobile flex for travel. It's small but sturdy and powerful enough that I have taken two trips with it and happy to have it!
11/22/2021
Jessica R.

United States
Best investment for our health
I am so impressed with the Mito light that after purchasing the big panel I ordered the small portable one. I use the big panel everyday on my daughter who has physical disabilities and she asks for "her therapy" every day. I place it on her back for 10 minutes and them her legs for another sesión. I use mine on my face and chest and I love the energy and skin benefits so much! I also use the small panel for my husband who loves his hair. I am absolutely obsessed with my Mito light and will purchase more panels for my loved ones. If you are on the fence about this investment, make the decision and buy it! Your health is worth the investment!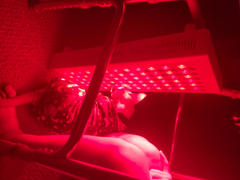 11/20/2021
Karen F.

United States
The Mito Mobile FLEX is the PERFECT Solution
We had just recently bought the Mito Redlight table version, which between the two of us gets used practically every day, and hadn't planned another purchase so soon, but when we saw the Mobile Flex, we know it would be perfect for addressing other issues we were encountering. My husband uses it on his forearms while sitting in his recliner, and I prop it up with a pillow on the floor and use it on my foot and ankle. As stated above, IT IS the perfect solution. We highly recommend it.
09/15/2021
Miguel G.

United States
Silver Mito Mobile Flex
We love our little Flex. It has helped us with many things we cannot do from our bigger devices. Our dog had a sprain and I was able to use on him for 10 mins twice a day morning & night to help bring down the swelling. He was able to walk again in less than two weeks. My mom had a welt & bruise I was able to bring the swelling down within days. Our neighbor had injured herself from trimming trees and she too healed much faster than it would have been naturally. I am very impressed with this device as it small and easy to use. We cut openings out of cardboard boxes to help hold the device to direct the light while in a therapy session. Pretty cool!