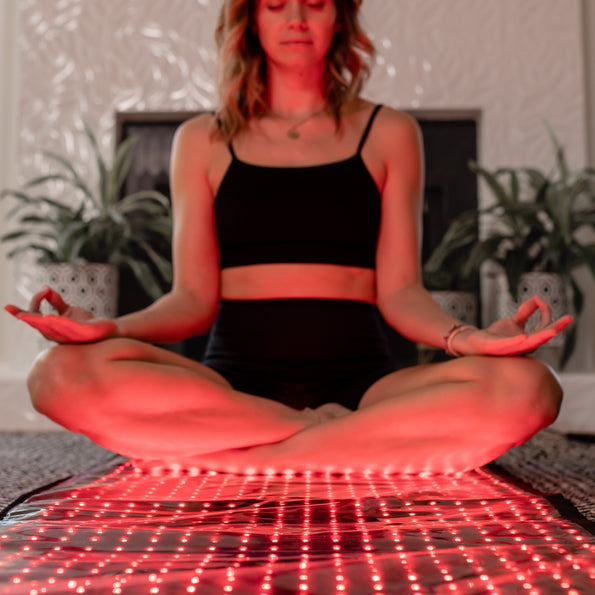 Mito Red Light Therapy - Full Body Mat
Brand New 2023!
The brand new Mito Red Light Full Body Mat gives you an incredible 1,280 LED diodes of red and NIR light. 

FAQ: Should I get a mat or full body panel?
If we were forced to choose only one, we would recommend one of our full body red light therapy panels. The power, performance and longevity of our panels is unmatched. The panels are considerably higher powered and require shorter session times.
However, the versatility, portability and convenience of the mat may work better for some applications. The mat is amazing for travel (only weighs 7 pounds) and is a perfect way to take a full body red light therapy experience on the road with you! 
Peak Irradiance at Surface Directly over LED: 30 mw/cm2
 Click for assembly videos and user manual.
EXCEPTIONAL VALUE YOU EXPECT FROM MITO RED
The MITO RED LIGHT Full Body Mat contains 1,280 LED diodes with 3 chips per diode = a whopping 3,740 LED chips total! The mat is meant to be used right up on the skin so having a HIGH quantity of diodes close together is absolutely critical to eliminate dead space and deliver maximum results.
GREAT FOR YOGA AND MEDITATION PRACTICES
FANTASTIC SOLUTION FOR FULL RED BODY LIGHT THERAPY ON THE GO
STACK WITH OUR FULL BODY PANELS AND HORIZONTAL STAND FOR MAXIMUM COVERAGE
SPECIFICATIONS
Size: 62" x 24"
Material: Neoprene
LED Qty: 1,280
Wavelengths: 660nm (Red) & 850nm (NIR)
Input Voltage & Power: 100-240V, 50-60Hz, 97 Watt
Weight: 7 pounds
Brightness: 1%-100%
Timer: 1-30 minutes
Driver: 24V 5A, UL Listed
1 Year Warranty