MitoMOD Series
Buy 2 light array, save an additional 5%. 
Buy 4 light array, save an additional 10%. 
Discount automatically applied. 
Mobile Stand sold separately (not required for use). Click for assembly videos and user manual.
Please note: A 4 light MitoMOD array does require the Mobile Stand to eliminate gap in center of lights (2 lights on left are turned upside down, secured with brackets and mounted to the stand).
Independent 3rd party testing shows the MitoMOD 900 delivers an industry leading 47,320 joules per 10 minute session. 
60 Day Trial Period
60 Day Trial Period. No hassle returns. No hidden restocking fees.
Fast & Free Shipping
Free USA Shipping and Worldwide Shipping Options Available.
Financing Availability
Just select during checkout to see the options.
Full Warranty
Warranty coverage up to 3 years, but our lights are built to last forever.
The MitoMOD series uses the same powerful LEDs and provides the industry leading irradiance you've come to expect from Mito Red.
Connect devices together and build as you go!
With 3 different panel sizes and 11 different possible configurations, find the setup that optimizes for your goals and budget.
The MitoMOD series produces the powerful light you need, with modular capability and stand compatibility, without breaking the bank.
Compare The Models
MitoMOD 300
Power:
300w (rated power)
Wavelength:
Red 660nm / NIR 850nm = 50/50
Irradiance at 6 Inches
(mW/cm2)
>100mW/cm2
Lens Beam Angle:
60 Degrees
Best Used For:
Targeted Treatment
MitoMOD 600
Power:
600w (rated power)
Wavelength:
Red 660nm / NIR 850nm = 50/50
Irradiance at 6 Inches
(mW/cm2)
>110mW/cm2
Lens Beam Angle:
60 Degrees
Best Used For:
Half Body Treatment
MitoMOD 900
Power:
900w (rated power)
Wavelength:
Red 660nm / NIR 850nm = 50/50
Irradiance at 6 Inches
(mW/cm2)
>120mW/cm2
Lens Beam Angle:
60 Degrees
Best Used For:
Full Body Treatment
What's Included
1 x Power Cable
1 x Linking Power Cable
1 x Detailed User Manual
1 x Over-The-Door Hook
1 x Steel Hanging Cables
1 x Adjustable Pulley System
1 x Protective Goggles
Get the Mito Red Light Stand
The beauty of the MitoMOD series that panels can be combined. When ordering combinable panels make sure and add our Red Light Stand to your order!
Customer Reviews
Write a Review
Ask a Question
04/27/2021
Tammy F.

United States
Love, love.
My husband and I always try to stay natural with healing, after doing some research we decided to give Mito a try. We first bought the Mito mod, mostly for wrinkles and such.. but the whole refreshing , rejuvenating experience left us wanting more. Next purchase within a week was next size up. My husband rigged up a frame that the light hangs from, and we lay under to bask. It truly is very refreshing. As for results, it's pretty early to tell although after 4 weeks the redness on the sides of my face have all but disappeared. Overall well being is the goal.
04/21/2021
todd c.

United States
mitomod
I recently purchased a mitomod full body unit, It makes me feel like I have been exposed to sunlight everyday I use it. I purchased the unit for overall health and well being. I do believe the most noticeable change has been better sleep. I also believe it is evening out my complextion. So far so good.
04/09/2021
Matthew L.

Canada
It worked where decades of other solutions failed
I have had a clicking jaw for decades that other than a risky surgery, there has been no other relief for. I just dealt with it. Then I read about red light therapy and how the near infrared can ********* into the body as much as centimetres depending on the area. I figured it would be worth a try. After 3 weeks of use, my jaw has stopped clicking and has never felt better. I am very impressed and happy with my MitoMod 300 that has a great little stand that you can use to adjust it in all sorts of ways. RTL is not just about beauty, but also health and body repair. I am an asthmatic and am experimenting with my lungs now and am finding some benefits here too. Wow. Why is RTL not being talking about more?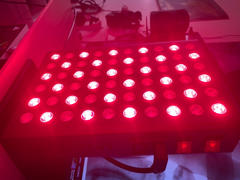 03/30/2021
Shellye C.

United States
Worth the Investment
I'm 51 with severe arthritis in my lower back. When I would get up in the morning there would be days I felt 90. A friend encouraged me to try red light and specifically Mito. I bought a small mod and started using it. Now I have a 4 foot and I don't think I can live without it! No more aches and pains. It has given me back my life. All natural, incredibly relaxing and helps me carve out time for me.
03/26/2021
Marie L.

United States
Amazing result
I bought the mito red series , mito mega for my house in Canada and mito mid and mito min for My place in USA! I love the results, after only 3 month , the texture of my skin is so soft, I noticed less wrinkle around my mouth and my eyes. I use it 5 times a week for about 7 minutes and now I try to treat my legs (bad circulation) and my shoulder pain. The team at Mito are so nice and helpful! I had a problem with the first order mito mid and they sent me right away a return label and a new device! Highly recommended
03/24/2021
Laurie R.

United States
Excellent Quality
My husband and purchased this for a variety of reasons. I was interested in benefits of the skin and a nagging shoulder pain that I've had for 8 plus months. My husband who is 70 wanted this for recovery after tennis and working out...and he plays alot! We have both felt the benefits are slowly showing up with consistent use. My shoulder has greatly improved and my husbands joint pain seems to be in check. We have only used this for roughly a month so I am hope to see improvements in my skin over time.
03/17/2021
Rosemary M.

Australia
Review of Mito Pro 900 after 3 weeks regular use
It's very sturdy and easy to operate. I have easily incorporated it into my routine with 10 minutes twice daily. It's easier to incorporate into my routine than I had anticipated because I love using it! It's very relaxing to sit in front of it twice daily...not sure if there's a scientific basis to how relaxing I find it. It emits slight heat (not too much) which feels lovely to me, and adds to how relaxing it is. In regards to benefits, I have been sleeping very well and feel well rested. This is subjective as I have no way of measuring my sleep, but I would love to attribute it to the machine. I look forward to seeing what benefits I get with longer term regular use, specifically to help me with chronic fatigue and collagen production in the skin. This device is a good price, I did research how it compares to others on the market before I purchased. I am very happy with my choice.