---
---
---
Super charged, high powered targeted treatment with the MitoMIN 300w 60 LED red light therapy device. Best value targeted red light therapy panel available on the market. Compare to lower-powered similar sized models priced at $399. Whisper quiet fan keeps LEDs cool ensuring 50,000+ hour lifespan. Dual switches, one each for 660nm (Red) and 850nm (NIR), allow for full customization of the session. Use Red, NIR or both at the same time! Highest irradiance on the market. Full 2 Year Warranty.

Independent 3rd party testing shows the MitoMIN delivers an industry leading 14,503 joules per 10 minute session. 
Includes:
1 X Power cord
1 X Goggles
1 X User Manual
1 X Steel cable
1 X Door hanging hook
1 X Adjustable height pulley system 
Specifications
Size: 13" X 9" X 3"
LEDs: 60 x 5w
Wavelengths:
Enhanced Spectral Energy Output™ : 50% Red (peak power 660nm) and 50% NIR (peak power 850nm)
Irradiance: >85mw/cm2 @ 6 inches
Switches:
Dual switches, one each for 660nm (Red) and 850nm (NIR), allow for full customization of the session. Use Red only, NIR only or both at the same time! 
Beam Angle: 60 degrees
Weight: 6 lbs
Lifespan: 50,000+ hours
Power Consumption: 140 
Warranty: Full 2 year warranty
Compatible with all worldwide voltages. 
Download the full user manual 
here.
---
Customer Reviews
Write a Review
Ask a Question
ME
07/30/2020
Mary E.
United States
More energy and reduced inflammation
It was really easy to use and set up. Within a matter of days, I felt some relief from inflammation in my left knee. Now I use it daily and I feel more energetic!
07/28/2020
Jess Y.
United States
07/26/2020
Leila A.
United States
Fantastic pain relief almost instantly
This light improves my mood as I feel pain relief in my lower back. I've also tried it on my face and that's when I feel extra content about life. I could see this type of therapy is both physical and psychological. Love it and wish I had a full body sized light. I own the smallest box and am enjoying it. Highly recommend!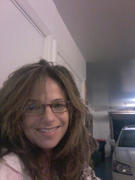 07/24/2020
Barbara M.
Canada
Awesome Technology!
I was so pleased with this light that I purchased the MitoMax soon after using it. I noticed a difference in the look of my skin very quickly. I am about 4 weeks into using this light and I am amazed at the difference it has made in the look of my cellulite as well as the crepey look of my mature skin from collagen loss. My skin is already looking smoother, fuller and tighter. I cannot imagine my life without this light going forward. MitoRed, you are an awesome company with a great price! Thank you!
07/20/2020
Sonya B.
United States
Game changer!
I love my Mito Red Light! I've been using it a few months now and it's something I've love incorporating into my self care routine. I use it mostly on my face and back but have used it all over. I love how portable it is and I often bring it with me to my sister's house so she can use it too. I will definitely be getting her one for her birthday since she loves it so much!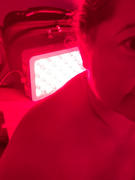 07/14/2020
Elizabeth B.
United States
Best option when cost is a factor
Very happy with the MitoMIN, This is the best option when cost is a factor. It's easy to use, and I feel good knowing I can access the therapy I need for a small investment
07/14/2020
Alexis T.
United States
Amazing
This is something I don't know how I ever lived without! Simply amazing. It helps with my left ear which I have issues with and also my nerve issues in my neck! 100 recommend