---
---
---
Super charged, high powered targeted treatment with the MitoMIN 300w 60 LED red light therapy device. Best value targeted red light therapy panel available on the market. Compare to lower-powered similar sized models priced at $399. Whisper quiet fan keeps LEDs cool ensuring 50,000+ hour lifespan. Dual switches, one each for 660nm (Red) and 850nm (NIR), allow for full customization of the session. Use Red, NIR or both at the same time! Highest irradiance on the market. Full 2 Year Warranty.

Independent 3rd party testing shows the MitoMIN delivers an industry leading 14,503 joules per 10 minute session. 
Includes:
1 X Power cord
1 X Goggles
1 X User Manual
1 X Steel cable
1 X Door hanging hook
1 X Adjustable height pulley system 
Specifications
Size: 13" X 9" X 3"
LEDs: 60 x 5w
Wavelengths:
Enhanced Spectral Energy Output™ : 50% Red (peak power 660nm) and 50% NIR (peak power 850nm)
Irradiance: >85mw/cm2 @ 6 inches
Switches:
Dual switches, one each for 660nm (Red) and 850nm (NIR), allow for full customization of the session. Use Red only, NIR only or both at the same time! 
Beam Angle: 60 degrees
Weight: 6 lbs
Lifespan: 50,000+ hours
Power Consumption: 140 
Warranty: Full 2 year warranty
Compatible with all worldwide voltages. 
Download the full user manual 
here.
---
Customer Reviews
Write a Review
Ask a Question
07/04/2020
Bill C.
United States
07/03/2020
Michelle C.
Australia
Mito Magic
I found I really looked forward to my daily session of Mito light therapy because it endured a feeling of calm and wellness each day .I also decided to meditate during the light therapy sessions so I could enhance its value .I am really pleased with adding this easy time efficient bio hack to my quest for vibrant health and vitality every day
07/03/2020
Marion B.
Canada
New mito box
Easy to use but so far no noticeable results.
06/30/2020
Douglas M.
United States
Good investment
Purchased this in December and used it off and on for a few months until recently when I made it a routine 4-5 times a week... definitely sleep better and feel good after using it.
06/24/2020
Amy A.
United States
Tremendous Addition to Therapy
I am madly in love with my MitoMin Red Light Therapy~ I purchased the unit to use for a varieties of ailments in addition to my infrared sauna. I found great relief most recently with a knee issue i was having. I did 2 15 minute sessions a day to speed up recover y and it was very helpful! I also use it daily on my face and must say it brings a youthful glow! I love this unit because it is compact and i can use it in many many ways!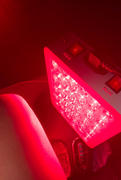 06/18/2020
Marilyn S.
United States
Results are...
Hi Yes, it's been a month and while I sleep very deep, there's been no change in my skin or any of the benefits that I wanted. I use daily. I do hope I'll see some benefit within the next month.
06/16/2020
L G.
United States
Good value
Like the separate switches for red and nir lights. Size is good. I use it for both feet. Nice that they include several pieces of hardware to hang it with. I just set my light on the floor since its for my feet.